Article Tools:








Oh, Holy Knights!
Little Role Models for Little Ones
Pirates and knights are the action figures of choice, say specialty retailers, and are just right for stocking stuffing. Here are a few toys that spur imaginations to action:
Wildlife Wonders Puma Concolor by SAFARI LTD.®


Living in many different environments from swamps to deserts, forests to mountains, mountain lions are a highly adapted species. Our New 2015 Wildlife Wonders Puma Concolor figure measures 10.5" L x 4.75"H (26.5 cm x 12 cm) and recommended for children 3 and up. Scale 1:9.4. All products are 100% guaranteed and lead-free to ensure children's safety. Visit safariltd.com and explore the educational information we have available in 5 different languages. 11/18/2014 [Add to my Inquiry Basket][?]



D.C. Comics Superman: Man of Steel Basic Fig. Assortment by UNITED PRODUCT DISTRIBUTORS LTD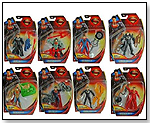 Kids can play out the iconic moments inspired by the new movie "Man of Steel" with this assortment of heroes and villains. Superman features different suits and armor for a variety of looks, and each 3.75-inch figure carries an accessory that attaches to its hand. Sized extra big, these tools showcase Superman's spectacular strength and fearless battling ability. Includes 1 figure and 1 accessory. Each sold separately, subject to availability. Ages 4 and older. © D.C. Comics 9/2/2014 (Age: 4 and up) [Add to my Inquiry Basket][?]



3 Red Dragon Knights by PLAYMOBIL INC.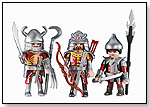 These three knights fight under the red dragon insignia. Their black, red and silver accessories include shields, helmets, swords and more.
— In an August 2014 survey David Stelzer, owner of Shananigans Toy Shop in Baltimore, Md., told TDmonthly that "Playmobil usually outsells everything else in the store," and Playmobil makes the store's best-selling action figures. 8/28/2014 (Price: $10.99) [Add to my Inquiry Basket][?]



Transformers Age of Extinction Decepticon Stinger One-Step Changer by HASBRO INC.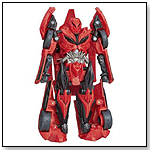 Decepticon Stinger is back, and he's tougher than ever! This Decepticon Stinger changer fights his Autobot enemies every time he can, and he converts so fast they'll never be able to keep up. Press him to convert him from mighty robot mode to speedy sports car mode in just 1 step, then convert him back again when the battle calls for it! Autobots will never be able to handle your fast-changing Decepticon Stinger figure!
— In a August 2014 survey, three out of 10 retailers told TDmonthly that Transformers were their best-selling action toys. 8/28/2014 (Price: $9.99; Age: 5 and up) [Add to my Inquiry Basket][?]



LEGO Ultra Agents - Ultra Agents Mission HQ by LEGO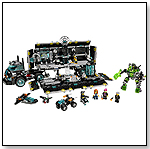 Defend the LEGO® Ultra Agents Mission HQ from Terabyte mech attacks, featuring undercover mode, open HQ mode, detachable flyer and a buggy. 8/28/2014 (Price: $99.99; Age: 9 and up)



POP! Thor 2 Dark World Vinyl Bobble Head by FUNKO INC.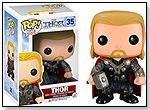 Directly out of the Thor: The Dark World movie! The Thor The Dark World Thor Marvel Pop! Vinyl Bobble Head features the protagonist and title hero from the original Thor film as a 3 3/4-inch tall bobble head.
— David Stelzer, owner of Shananigans in Baltimore, Md., told TDmonthly in an August 2014 survey that Pop! Figures from Funko are one of the store's best-selling collectible items.
— David Stelzer, owner of Shananigans in Baltimore, Md., told TDmonthly in a May 2015 survey that Funko was one of their best-selling licensed toy brands. 8/28/2014 (Price: $13.99) [Add to my Inquiry Basket][?]



Night Goblin Regiment by GAMES WORKSHOP

In common with all Goblins, Night Goblins are petty, if cowardly creatures. Where they differ, however, is that their Shamans prepare them for battle by brewing huge quantities of fungus beer, lending them sharper instincts and quicker reactions, if rendering them paranoid and twitchy at the same time. This multi-part plastic boxed set contains 20 multi-part plastic Night Goblins, which can be assembled with spears and shields, hand weapons and shields or bows. It includes options for a Champion, Standard Bearer, Musician and Netters. 7/31/2014 (Price: $35.00) [Add to my Inquiry Basket][?]



Stickgirl Shirl™ by STICKMAN STEW LLC


Stickgirl Shirl™ is a quirky and curious girl who loves to daydream and encourages others to do great things. Shirl is always wishing on shooting stars and talking to furry animals. 5/27/2014 [Add to my Inquiry Basket][?]



Yo Gabba Gabba 3" Assorted Figures w/accessories by ZOOFY INTERNATIONAL LLC


Yo Gabba Gabba gets the 3-inch action figure treatment! This Yo Gabba Gabba 3-Inch Action Figure with Accessory Case features some of your favorite characters from the show. Includes Plex and Brobee. 6/19/2013 [Add to my Inquiry Basket][?]



COOP SHREDZ™ Terrain Park Trick Set by SWIMWAYS CORP
Create a challenging course for Team Shredz™ with the Shredz Terrain Park Trick Set. Complete with three accessories for designing the ultimate tricks – the Shredz Jump for getting big air, a straight box for gliding, and a rainbow box for grinding – this park is a Shredz snowboarder's dream. Kids can use the accessories alone in the snow or use them to create a sculpted snow terrain park. When it's time to hit the lodge, kids can store everything in the rainbow box, which comes with a hinged lid. 2/18/2013 (Price: $18.95; Age: 5 and up) [Add to my Inquiry Basket][?]



Disney's Jake and The Never Land Pirates - Jake, Hook and Croc Pirate Pack by FISHER-PRICE INC.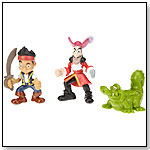 JAKE AND THE NEVER LAND PIRATES characters come to life in these Action Adventure Pirate Packs. The characters are in cool action poses and are ready for an island adventure. One pack includes Jake and his Telescope, Izzy and her Pixie Dust pouch, and Cubby and his Treasure Map. The second pack includes Jake and his sword, Captain Hook and Tick Tock Croc. 12/17/2012 (Price: $10.99; Age: 3 to 6)



Captain Action by ROUND 2 LLC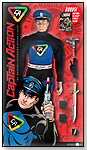 The master of disguise is back in action! The character debuted in 1966 as the original superhero action figure. The 11 1/2" inch tall Captain Action figure is a detailed and updated version of the iconic character from the 1960's and features his all-new super-posable body in his new hologram projection suit. Updated accessories for 2013 include a cloth costume, belt, gun, holster, sword, and sheath. Set also includes boots, cap and comic book. 11/29/2012 [Add to my Inquiry Basket][?]



Monsuno Wild Core Wave #2 - Snow by JAKKS PACIFIC INC.


The Wild Core brings motorized, electronic chaos to any battle. Be the first to spin Monsuno Cores (sold separately) into impact with the Wild Core for a powerful payoff. Each Wild Core comes with an exclusive collector game card. 11/20/2012 (Price: $17.99; Age: 4 to 15)



The Bridge Direct Hobbit Hero Pack - Bilbo, Thorin, Dwalin, Kili and Fili 3.75" Figure Box Set by THE BRIDGE DIRECT INC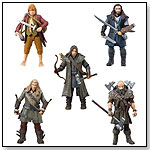 This boxed set of 3.75" scale action figures features 5 main heroic characters from The Hobbit film. Each figure contains up to 10 points of articulation and replicates the facial features, clothing, weapons and accessories of the character. Select from 4 styles or collect them all. 11/5/2012 (Price: $34.99; Age: 4 and up) [Add to my Inquiry Basket][?]



MASHOONGA Warrior Lime-green/black by REVEL KING, INC.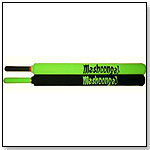 Mashoonga! Sabers by Revel King are the original soft, durable foam dueling sport-toys for people of all ages. Mashoonga! is a new twist on ancient martial arts that is a game of endurance, skill and agility. The structured play pattern enhances eye/hand coordination, strategic skills, speed and sportsmanship. It is extremely aerobic and helps players to get fit, stay in shape and build self-confidence. Mashoonga! Sabers are constructed of the highest quality materials available and are made to be safe and to last. If they break due to defect we replace it. They will provide hours of entertainment and fun for the entire family. Mashoonga! Sabers are an ideal boffer for those new to the sport of battle gaming. 10/22/2012 (Price: $39.99; Age: 10 to 15) [Add to my Inquiry Basket][?]



Lil' Teammates Collectible Team Set by Party Animal, Inc.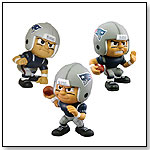 2 3/4" tall vinyl team figures. Available in various NFL teams. Collectible Set of all three positions: Quarterback, Lineman and Running Back. Launch date: 2012. 10/17/2012 (Price: $24.99; Age: 3 and up) [Add to my Inquiry Basket][?]



HALO 4 Warthog Vehicle by MEGA BRANDS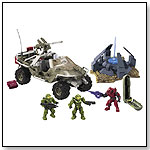 Those who love to play Halo will adore a Mega Bloks Warthog Resistance set. The set includes figures, blocks and a vehicle. Characters will be able to easily move around the sets that they build. The plastic set helps children focus on motor skills and building, which can help them later in life. Suitable for older kids, this set has everything your child needs to challenge friends to a battle. 10/11/2012 (Price: $32.99; Age: 8 and up)



Nickelodeon® Teenage Mutant Ninja Turtles by PLAYMATES TOYS INC.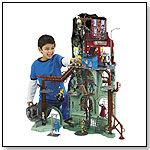 The ultimate playset for Teenage Mutant Ninja Turtle fans, the Secret Sewer Lair playset is BIG, and ready for Ninja battle action. This playset will have kids creating their own Lair of excitement as they become the leader of the pack, swinging into action, training the Turtles and defeating Shredder once and for all. Standing 42 inches tall and resembling the Sewer Lair that is home to the Turtles in the TV show, the Secret Sewer Lair includes more than 20 different exciting Ninja features. 10/11/2012 (Price: $119.99; Age: 4 to 6)



Aero Flixx by SKULLDUGGERY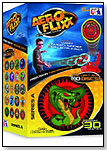 Aero Flixx is Skullduggery's indoor action disc game. 4 inch discs contain cool 3D images on 1 side and a foam backing on the other. Initially, there are 40 discs to collect and trade. A rubber band powered target is available at which the discs are tossed and a direct hit propels the target 5 - 6 feet in the air. Play indoor disc golf, H*O*R*S*E, shooting gallery, or other precision games using Aero Flixx' 3D throwing discs, target and target launcher. Launch date: September 2012. 9/17/2012 (Price: $9.99; Age: 6 and up) [Add to my Inquiry Basket][?]



Batman The Dark Knight Rises Movie Masters Collector Batman Figure by MATTEL INC.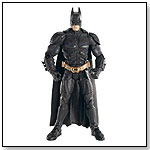 Batman The Dark Knight Rises Movie Masters Collector Figures: Based on the hit new Batman film, The Dark Knight Rises. The Dark Knight Rises comes to life with Movie Masters figures, sculpted with superior accuracy and details inspired by the film. Eight of the movie's biggest characters have been meticulously crafted to capture and create fully articulated figures in six" scale. Ready to be the biggest star in any fan's collection, each figure includes a Collect and Connect piece that can be combined with other pieces to create a light-up and wall-projectable Bat Signal. Purchase eight collectible figures throughout the year to complete the Bat Signal.
— In a August 2014 survey, Sunni, manager of Doodlehopper 4 Kids in Falls Church, Va., told TDmonthly that Batman is one of their best-selling Action Figures. 7/16/2012 (Price: $16.99; Age: 3 and up) [Add to my Inquiry Basket][?]



The Hunger Games Movie 7 Inch Action Figures - Katniss Everdeen by NECA


From the Hunger Games movies and NECA comes the Highly Detailed "Katniss" 7 Inch Action Figure. Figures are sculpted in the movie likeness , and painted in great detail. 4/11/2012 (Price: $17.99; Age: 14 and up) [Add to my Inquiry Basket][?]



Power Rangers Deluxe Megazord Claw Zord by BANDAI AMERICA INC.


The Power Rangers iconic Megazord comes in a sleek Samurai look. Three ways to play: 1) Morph as Megazord mode; 2) Morph as Zord mode; 3) Morph with items in the ZordBuilder collection. The ZordBuilder collection takes Deluxe Megazords to an ultimate level. Collect and combine with: Cycles or Zord Vehicles (#31550 or #31565, each sold separately). Collect all the Megazords and Zord Vehicles to create the Samurai GigaZord.
— As of 4/11/2012 this product had 4 out of 5 stars from 11 reviews on Amazon.com. Pros: Durable; has three modes of play. Cons: Difficult for kids to maneuver and connect. 4/11/2012 (Price: $29.99; Age: 4 to 17)



Skylanders Spyro's Adventure Pack - Legendary Trigger Happy by ACTIVISION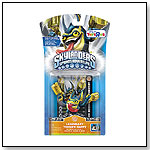 For centuries, Skylanders have competed in gladiator-style events inside epic arenas of sport, where only the greatest of combatants become immortalized as magical, golden statues that stand watch as guardians. These are the Legendary Skylanders. Whenever the world is in peril, special Portal Masters can bring these statues to life and summon the Legendary Skylanders to defend Skylands against any evil that threatens it. Bring the Skylanders to life in the Skylanders Spyro's Adventure video game and on the web in Skylanders Spyro's Universe. Build the ultimate collection of Skylanders - over 30 Skylanders to collect. Each Skylander has their own unique powers and abilities to enhance game play experience and save Skylands. Each character has unique abilities and powers - play more and unlock special moves and superpowers. Skylanders are action figures with brains - the Skylanders are so powerful that they remember their in-game experiences and upgrades. Skylanders figures work on and across all major video game systems, including Wii, Nintendo 3DS, Xbox 360, Sony PlayStation 3 and PC/Mac computers. Skylanders Single Pack includes: 1 Skylander Figure, 1 Trading Card, 1 Sticker Sheet, 1 Web Code.
— As of 4/11/2012 this product had 4.7 out of 5 stars from 10 reviews on ToysRUs.com. 4/11/2012 (Price: $9.99; Age: 6 and up)



Sonic Free Riders by NKOK INC.

These fun, full function Remote Controlled Free Riders come with figures of Sonic and Jet. Taken directly from the hit racing video game in the Sonic the Hedgehog Series. Launch date: February 2012. 3/5/2012 (Price: $29.99; Age: 6 and up) [Add to my Inquiry Basket][?]



Sonic 3 inch Action Figure Superpack by JAZWARES INC.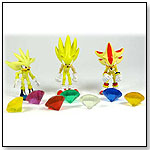 These highly detailed 3-Inch figures have over 12 points of articulation and capture all the signature characteristics of all three characters. The Super Pack also comes complete with 7 Chaos Emeralds.
— As of 12/30/2011 this product had 4.2 out of 5 stars from 37 reviews on ToysRUs.com. Pros: Unique; detailed; comes with seven emerald accessories. Cons: Not durable (better as a collectible than a playable toy). 12/30/2011 (Price: $17.99; Age: 4 to 6) [Add to my Inquiry Basket][?]



NHL Hockey Guys by KASKEY KIDS INC.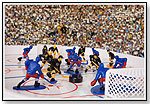 Hockey Guys is a boxed set of 2" plastic hockey players. Inside each easy-to-carry plastic case are two hockey teams, one referee, one oversize puck, two hockey goals and a white mat designed to look like a hockey rink. Each features two of the original six NHL teams: Chicago Blackhawks vs. Detroit Red Wings, Montreal Canadiens vs. Toronto Maple Leafs, and New York Rangers vs. Boston Bruins. Set includes: 14 2 1/2" players; 1 referee; 2 goals; 1" puck; 10 rink wall pieces that slide together to form the rink; 26" x 18" shiny, slick plastic mat that resembles "ice;" and a 10" x 6" x 5" stackable container with attached lid and handle. 6/6/2011 (Price: $28.99) [Add to my Inquiry Basket][?]



LEGO® Star Wars® ZipBin® Battle Bridge by NEAT-OH! INTERNATIONAL LLC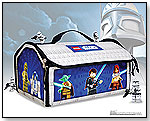 Whether they're fighting the Separatist droid army or simply packing their defeated enemies away for another day of galactic battle, the LEGO® Star Wars™ ZipBin® Battle Bridge Storage Case makes the perfect storage bin for kids to keep their clone troopers, Sith Lords and Jedi Knights in. Use the suspended battle bridge to gain the advantage over the enemy or sneak under them on the space station floor. No matter the battle, once over, all sides fit neatly inside this tool-box shaped case. LEGO Blocks not included. ZipBin Products - Keep it Together™. © 2010 The LEGO Group. © 2010 Lucasfilm Ltd. & TM. Launch date: February 28, 2011. 5/6/2011 (Price: $16.99; Age: 3 and up) [Add to my Inquiry Basket][?]



Little Big Planet 9in DIY kit by MEZCO TOYZ


Mezco continues its adventures in the universe of Little Big Planet as it reaches into the magical world of Little Big Planet and brings SackBoy to life with an all-new figure that can be decorated and customized. The Little Big Planet SackBoy Do-It-Yourself Figure stands 9 inches tall. Cast in pure white vinyl he is ready to be customized. Kids can paint him, use markers, or add glitter. The Little Big Planet SackBoy Do-It-Yourself Figure features 5 points of articulation and is packaged in a collector friendly window box. Launch date: June 2011. 3/21/2011 (Price: $24.00) [Add to my Inquiry Basket][?]



Boysterous Action Figures by MANHATTAN TOY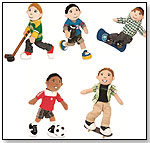 Each action packed figure comes with their own sports equipment: hockey puck and stick, skateboard, snowboard, soccer ball and football. Magnetized feet and hands allow each action figure to grab their gear. The line features 5 different action figures: Slap Shot Sam, Touchdown Dylan, Shredding Sean, Goalie Gavin, and Half Pipe Pete. Launch date: March 2011. 1/26/2011 (Price: $17.00; Age: 3 and up) [Add to my Inquiry Basket][?]



Lucha Libre! Extremo! ? The Star Man by AURORA WORLD INC.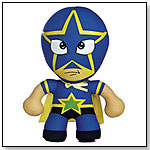 Making up Aurora's first series of exclusive soft figurines based on the Luche Libre phenomenon are the "top" six contenders wrestling to become champion. Kids will be entertained and inspired by the comic book "hangtag" attached to each plush toy. Each character is eight inches. Aurora expects to release "Series 2" featuring even more Luche Libre characters later in the year. 1/13/2011 (Price: $9.00) [Add to my Inquiry Basket][?]



Stowaways™ Military Adventure by BSW TOY INC.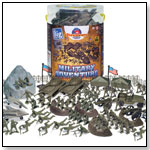 Stowaways™ Big Buckets™ feature new, sleekly designed keepsake tubs with sturdy handles and snap on lids for Take-Along-Fun. This Military Adventure includes over 55 military figures, 2 tanks 2 artillery pieces, sandbag bunkers and more for hours of imaginative fun. Combine this set with one of our many Bitty Buckets™ (sold separately) to build even greater adventures. Over 80 pieces. 10/18/2010 (Price: $19.99; Age: 4 and up) [Add to my Inquiry Basket][?]



Batman All Star Action Figure by DC COMICS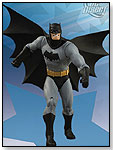 Featuring multiple points of articulation and carefully sculpted details down to the creases in his costume, this Batman action figure depicts the character as drawn by comic artist Jim Lee. The figure stands 6.75" tall and comes with a base.
— Out of 38 retailers who participated in a July 2010 survey of best-selling action figures, two listed DC Comics as their top supplier. 8/30/2010 [Add to my Inquiry Basket][?]



Crazy Cat Lady by ACCOUTREMENTS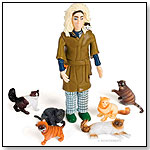 Often whimsical and sarcastic, Accoutrements's line of action figures contains many unlikely characters. While perhaps not a comic or movie feature, the Crazy Cat Lady is a familiar concept that Accoutrements brings to life in a wild-eyed, wild-haired woman who comes packaged with six felines. Articulated arms and legs can be posed to hold the cats, as well.
— "Accoutrements action figures are an ongoing best seller," said Samuel Cox, owner of My Favorite Toys in Carbondale, Ill., during a July 2010 survey of best-selling action figures.
— Crazy Cat Lady was named by TDmonthly as "one to watch" way back in November 2004.
— Three out of 38 retailers said Accoutrements is their top-selling line of action figures in July 2010. 8/30/2010 (Age: 3 and up)



Papo Malta Knight by HOTALING IMPORTS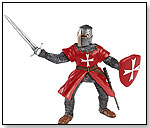 The Malta Knight figuring from Papo is detailed play figure ready for action. With his sword raised and helmet turned to face his assailant, he can stand alone or ride one of the man armored horses available in the line. The Malta Knight wears chain mail and a bright red tabard emblazoned with a white cross, finished with period inspired details like his shoes, helmet, and scabbard.
—"[Our best seller is] Papo action figures by Hotaling Imports. We can't keep them on the shelves," said Kathy Burns, manager of My Favorite Toy Store in Downer's Grove, Ill., during a July 2010 survey of top-selling action figures.
— Nine out of 38 retailers said Papo is a best-selling item in their stores.
— Linda Laramy, owner of Crackerjacks Toys and Childrens Books in Easton, Md., told TDmonthly in a Summer 2011 survey that she sells "a couple dozen" Papo knights each month, making them her best-selling action figure. 8/30/2010 (Age: 3 and up) [Add to my Inquiry Basket][?]



Doctor Who 5th Doctor and the Master by UNDERGROUND TOYS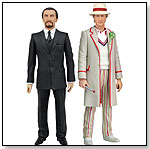 This set of two action figures features the 1984 characters from the "Doctor Who" series. (

Watch Video) 8/20/2010 [Add to my Inquiry Basket][?]



Skelanimals Maxx Vinyl by TOYNAMI

Measuring about 4.5" tall, this vinyl bulldog figure is cute, cuddly and irreverently spooky. (

Watch Video) 8/20/2010



Devil May Cry 4 Nero by SQUARE ENIX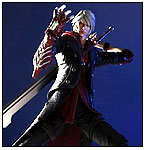 This PVC action figure, based on the video game character, features full articulation and detailed weapons and accessories. The figure stands about 8" tall. (

Watch Video) 8/11/2010



Hellboy Animated Action Figure by GENTLE GIANT LTD.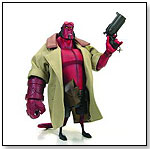 This 10" rotocast animated action figure features 16 points of articulation and wears the film and comic character's signature trenchcoat. (

Watch Video) 8/11/2010 [Add to my Inquiry Basket][?]



Can't Figure by EVERGROW LTD.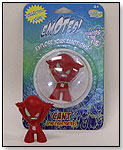 The Emotes characters are designed to educate children about feelings. This Can't "The Frustrated" vinyl figure stands 2.5" tall. (

Watch Video) 8/11/2010 (Price: $6.99; Age: 4 and up) [Add to my Inquiry Basket][?]



Marvel X Force Minimates 4-Pack by DIAMOND SELECT TOYS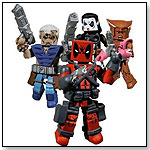 This boxed set includes the original lineup of X-Force, featuring a new Deadpool, an updated Cable, Feral and Domino. (

Watch Video) 8/11/2010 (Age: 3 and up)



Enter the Dragon Bruce Lee Collectible Figure by HOT TOYS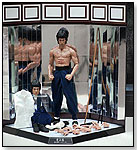 Celebrating the martial artist's 70th anniversary, the 1:6 scale Bruce Lee Collectible Figure is specially crafted based Lee's 1973 "Enter the Dragon" film character. The figure comes with several sets of fists and film diorama backdrops. 7/30/2010 [Add to my Inquiry Basket][?]



NBA Figures by MINDSTYLE LLC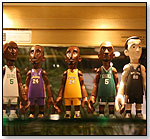 These stylized vinyl figures were modeled after NBA players including Kobe Bryant and Derrick Rose. 7/26/2010 (Age: 6 and up) [Add to my Inquiry Basket][?]



Tony Hayward Inaction Figure by HEROBUILDERS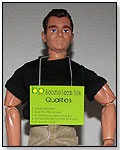 This novelty action figure portrays BP CEO Tony Hayward. 7/16/2010 (Price: $34.99) [Add to my Inquiry Basket][?]



Disney TRON 7.5? Impulse Projection Action Figures by SPIN MASTER TOYS

TRON action figures are the first to feature impulse projection technology, which brings the characters to life by projecting digitized, illuminated and moving faces onto the helmet just as in the film. The characters also speak phrases from the "TRON: Legacy" film. Each fully-articulated 7.5" figure lights up and comes with a unique accessory. 6/22/2010 (Price: $14.99; Age: 4 and up) [Add to my Inquiry Basket][?]



Catalog Request Form
THIS BANNER IS AN AD:
---
---