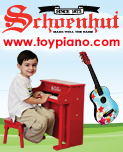 Article Tools:








TDmonthly's Top-10 Most-Wanted Die-Cast Toys
Pull Back With Planes, Trains and Automobiles
With additional reporting by Alison Marek and regional correspondents Terri Hughes-Lazzell and Christine Lebednik

Realism is a real trend in die-cast, according to 34 specialty retailers

TD

monthly Magazine spoke with recently. Schylling's pull-back line pulls its own weight, and Siku seeks dominance in the category with its four-wheeled competitors. Meanwhile, Toysmith and Corgi fly high with jet collections, and RC2's Johnny Lighting AMX, as well as Mattel's Hot Wheels Camaro, are adding classic muscle to their lineups.

Here's what's hitting the roads and runways in kids' imaginations. And to read about the latest forecast for die-cast, read Classics and Mods Go Head to Head.
.
.
.
.
.
.
.
.
.
.
Catalog Request Form


Advertisement: