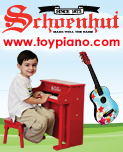 Article Tools:








TDmonthly's Top-10 Most-Wanted Novelty Toys
Play Visions Likes to Stretch It
With additional reporting by regional correspondents Terri Hughes-Lazzell and Christine Lebednik

Play Visions keeps stretching the limits of wackiness with the Flower Inside-Out Ball and Flex Net additions to its Hyperflex line, at least according to 35 specialty retailers who recently spoke with

TD

monthly Magazine. What's up in the air? Rocket Balloons by Cold Spring and Toysmith, and Playmaker's Flying Flingshot Monkey. What's not? The fact that the Creepy Worm Ball and Slinky round out a powerful arsenal of oddities this month. And if you can't wash that black stuff off your face, just thank Black Soap from S.S. Adams.

Here's what's wild and strange in the world of novelties. For related trends, see Nano Novelties Puff Up Sales.
.
.
.
.
.
.
.
.
.
.
Catalog Request Form


Advertisement: