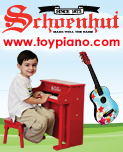 Article Tools:








Wind Instruments Blow Past Electronics
Back-to-Basics Musical Toys Make Cash Registers Ring
""I'm expecting to have to order several more harmonicas." — Sue Cooke, Mother Goose Toy Shop

Of the 32 specialty toy-store owners recently surveyed by

TD

monthly Magazine in an effort to gauge musical toy sales, 25 cited plain musical instruments with little to no electronic pizzazz. Old-fashioned instruments such as xylophones, recorders, kazoos and toy pianos were named often, and harmonicas received nine best-selling mentions. Also see TDmonthly's Top-10 Most-Wanted Musical Toys.

WHAT'S NEW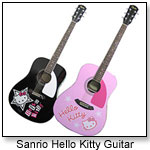 Some of the newest musical toys for kids include Woodstock Chimes' Woodstock Conga Drum, featuring sturdy wooden construction and authentic sound, and colorful Harmonica Necklaces by Village Square.

Peter Scott, owner of Perfect Toy in Avon, Conn., noted that "guitars have seemed to be on the rise [in the] last year or so."

New guitar models include the LP RythMix by Latin Percussion, Leapfrog's Learn & Groove Animal Sounds Guitar and iToys' Doodlebops version.

WHAT'S SELLING

Toysmith's Metal Harmonica leads the pack of trendy musical toys by a wide margin, as seen on

TD

monthly's list of the Top-10 Most-Wanted Musical Toys.


"I'm expecting to have to order several more harmonicas in the next month or so," said Sue Cooke, owner of Mother Goose Toy Shop in Litchfield, Conn. "Someone always wants a harmonica."

But harmonicas aren't the only wind-blown instruments selling.

"What sells the most are old metal kazoos and wood recorders," said Connie Hallinan, owner of Golden Aspen Toys in Flagstaff, Ariz. "No matter what the manufacturer is, they sell out."

"We've had customers ask for different kinds of whistles because their children's speech therapists had recommended them," added Mary Sisson, owner of Kazoodles in Vancouver, Wash. "They help develop the oral muscles and help a child develop breath support for speech."

WHAT'S FADING

Wooden Music Makers are going out of style, according to one retailer.

"We used to sell a lot of them by Peeleman-McLaughlin," Cheryl Pyles, manager of Toyland in Milford, N.H., told

TD

monthly. "Lately, not so much."

Owner Susan Castor of Pentwater Toy Box in Pentwater, Mich., however, sells 30 to 40 units a month of a Children's Music Maker — her top seller.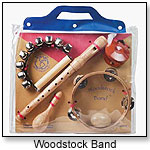 Although Neurosmith's electronic musical plush dolls such as Sunshine Symphony used to sell quickly, there's now a consensus among toy retailers that electronic musical toys are becoming yesterday's news.

"I'm noticing a trend away from electronics," said Jude Larene, owner of Izilla Toys in Seattle. "When we first opened, we sold a lot of the Neurosmith stuff. It's … pretty interactive for an electronic toy. But I don't sell it right now. People are more interested in hands-on wood instruments, little guitars, stuff like that."

"People want interactive and not electronic," agreed Luke Rook, owner of LuLuBell Toy Bodega Tucson, Ariz.

WHAT TO MAKE OF IT

"Music is essential for the child's fullest development," Stevanne Auerbach, Ph.D., aka Dr. Toy, told

TD

monthly. "Listening to music helps them to experience the pleasure of sounds and helps them to relate to rhythm and motion. Learning to play, starting with the simplest instruments, develops mental and social experiences, coordination and many other complex skills."

Traditional musical instruments — and more accurately, wind-blown musical instruments — are in. So see which of these you can add to your store, and remember to check out the market's newest offerings.

See below some of the musical toys that can help children develop and have a singin' good time:
.
.
Preschool pop stars The Doodlebops are starring in a new line of musical toys that includes this dancemat, which helps kids move and groove to the music. It gives children what they need to put on their own Doodlebops concert at home. Launch date: August 2007.
.
.
The iJuke is a treat for both the eyes and ears. Modeled after a traditional jukebox, this renovated version features a universal iPod docking station in addition to its visual spectacle of percolating bubble tubes and neon lighting.
.
Preschool pop star Moe Doodle of The Doodlebops knows how to jam on the drums. This drum set is a miniature replica of Moe's drum set on the show. Launch date: August 2007.
.
.
Until now, this product has been available only in the souvenir market, where it sells in major museums, national parks and historical venues, and at music events, jazz and blues fests, country music award shows and symphony orchestra performances. Kids of all ages love to wear it, and it really works.
.
.
This high-quality musical instrument is chromatically tuned and features lovely chime-like notes that are produced by little hammers striking precision-ground, German steel music rods (versus the conventional taut wires used in full-sized pianos). Schoenhut's patented Learning System, with its play-by-color teaching method, makes playing simple and fun. A removable color strip fits behind the keys to guide small fingers from chord to chord, and is also suitable for use on adult-sized keyboards. The accompanying songbook contains a collection of familiar tunes. Launch date: July 2007.
.
This pretty-in-pink Escalade is decked out with a working FM radio and rear speakers, open-and-close doors, see-through windows, chrome wheels, reverse-drive, a Power Lock® Brake System, and a 12-volt battery and charger. It has two forward speed settings: 2.5 mph and 5 mph.
.
Toddlers can now invite another friend to join the band and play LeapFrog's new Learn & Groove Animal Sounds Guitar. The colorful guitar, complete with whammy bar and fret button, introduces numbers and animals in English or Spanish, while encouraging little ones' exploration of music and guitar sound effects. The guitar's three fun learning modes—numbers, animals and music—will keep kids jamming and learning. Launch date: July 2007.
.
.
This 30" fully tunable acoustic guitar is kid-sized and fun to play. Kids and parents alike will appreciate the quality hardwood construction, durable high-gloss finish and amazing sound. The package includes a guitar strap, two picks, a full set of replacement strings, protective string post covers for added safety and an "Introduction to Guitar" booklet complete with chord cards for beginners. Launch date: July 2007.
.
This wonderful 22-1/2" scale Juba Clownfish guitar with a built-in speaker and volume control knob requires a 9-volt battery. It also can be plugged into an amplifier (sold separately). Perfect for children and adults alike, it has 20 frets, a rosewood fretboard and quality tuners. Goldfish kids' guitars are twice the quality of toy-store guitars at the same price. This guitar may also be enjoyed by teens and adults as a travel instrument.
.
.
Kids can learn to play guitar by plugging into a TV and following the color-coded images that guide them through a song. As they gain skills, they gain points, too. The guitar comes with a song cartridge that features six songs to learn chords with. Each cartridge also includes a jam-session mode so little ones can let loose. Launch date: July 2007.
.
Eric Clapton in Cream, Angus Young of AC/DC, Lars Frederiksen of Rancid — they're all notorious Gibson SG guitar players. Now tweens, "who are the target audience," according to Josslynne Lingard Welch of Litzky Public Relations, can have their own Gibson-inspired guitar in their own tween size: The Power Tour. Launch date: August 2007.
.
.
Have fun with our new "Country Music Jamboree." Our same high quality musical washboard also comes with an outstanding 10 hole Harmonica and Jaw Harp. Also included are three metal thimbles for a brilliant sound. Perfect for the "Zydeco" sound.
.
Circus Time™ is a fun and whimsical line of musical toys specially designed to hold children's interest as they are learning about the wonderful world of music.
.
Catalog Request Form


Advertisement: