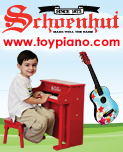 Article Tools:








TDmonthly's Top-10 Most-Wanted Card Games
It's Game, "Set" and Match
With additional reporting by regional correspondents Virginia Davis, Terri Hughes-Lazzell, Christine Lebednik and Brenda Ruggiero

Set by Set Enterprises dominates the card games category, according to 32 specialty retailers who recently spoke with

TD

monthly Magazine. And the company's Five Crowns and Quiddler continue to entertain card game fans as well. It takes a Wizard to cast a spell with the popular game from U.S. Games Systems, and Patch Products has players Spitting at one another. Funstreet, meanwhile, continues to make a Ruckus. Find out other card trends in Collect These Cards.

Here's what's being shuffled in card games:
.
.
.
.
.
.
.
.
Catalog Request Form


Advertisement: