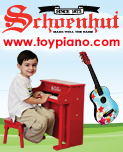 Article Tools:








Get These Toys!
Specialty Retailers Share Their "Must Haves"
If you're just starting your toy store and don't know what to stock, here's what successful specialty retailers say are musts. While some hot toys are relatively new, like Ganz's Webkinz, others, such as Elenco's Snap Circuits, have been selling steadily for years.

If you want more info on these bread-and-butter products of the specialty toy industry, just add them to your Inquiry Basket and we'll send your questions to the manufacturer. (See last month's toy recommendations).
.
.
.
.
.
.
.
.
.
.
.
.
.
This 17"-long fluffy brown and tan "mutt" puppet has a workable mouth, floppy ears and tail and a lot of charm and personality. Launch date: August 2007.
.
.
Big Toe is very busy, but he's going to take care of everything. Just watch. At first, Big Toe may seem a little slow ... until you realize he's always one step ahead. Those donuts you were saving for tomorrow? Gone. Those leftovers from the picnic? Done. Big Toe's on top of things! An unstoppable force of knowledge, Big Toe's got the scoop on all the latest info, and knows what's going down at all times ... except for when it comes to you. What's up with you? Big Toe wants to know. He also comes in a 2 '-size ($50), Little Ugly-size ($10) and as a key chain ($6).
.
This 14" soft-sculpt doll is dressed in the latest trend-setting fashions that can be mixed and matched, and each Ty Girlz outfit comes with complementary accessories. The dolls have soft, realistic hair that can be easily combed and styled in numerous ways. Their clothes, hair and makeup are coordinated in monochromatic hues for a distinctive look, and the dolls are accompanied by a 3-D interactive virtual world. Launch date: July 2007.
.
.
.
.
.
.
.
Catalog Request Form


Advertisement: