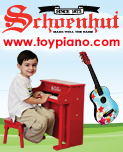 Article Tools:








TDmonthly Top Seller 2007 Awards
These Specialty Toys Make Sales Extra Special

If you want to know what some of the top-selling toys in specialty stores are, just take a look at TDmonthly Magazine's award winners below! Most of these toys have been highly rated for years by retailers who speak with TDmonthly. Others are relative newcomers that have just, well, lifted off — like International Playthings' Lift-off Rocket.

We've excluded some great sellers because we've heard complaints about quality or safety. And, of course, since we limited the winners to just 20, many other fantastic toys couldn't be squeezed onto the list. Maybe next year!

Congratulations to all the winners, and thanks for helping to make 2007 a great year for specialty toys:
.
.
.
.
.
.
.
.
.
.
.
.
.
.
.
.
.
Catalog Request Form


Advertisement: