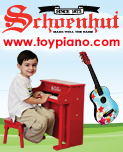 Article Tools:








Watch Fall Toy Preview VIDEOS!
Computer-Controlling Gloves and Indoor Planes Fly High
Almost 300 exhibitors let retailers look into their future at the Fall Toy Preview sponsored by the Toy Industry Association at the Dallas Marketplace in Texas.

TD

monthly Magazine's camera crew wound its way through the maze of exhibit rooms, seeking some of the coolest new toys for 4Q and 2008. Though the show is geared for mass-market retailers and buyers,

TD

monthly learned that several specialty stores were there buying, too.

Here's what we found:

Videography and editing by Alison Marek.

You can also watch other trade show coverage for 2007 and 2006. Or, if you're a manufacturer, find out how you can get your toy on TDmonthly's Toy TV.



10VOX
Kookeys
Watch Video
4Kidz Inc.
Test Tube Aliens, demonstrated by Kenneth Lewis

Watch Video
American Classic Toy Inc.
Word Cube, demonstrated by Jay Horowitz

Watch Video
Aurora World
Valentine Plush
Watch Video
CHH Quality Product Inc.
Shuffle Board
Watch Video
Colorbok
You Design It!
Watch Video
Diggin
Soccer Attack, demonstrated by Jenny Stern

Watch Video
Endless Games
Godfather Trivia Game
Watch Video
Fascinations
Levitron AG Globe, demonstrated by Franz MacMaster

Watch Video
Freckles & Maya
Backpacks
Watch Video
Funrise Toys
Gazillion Bubble BBQ
Watch Video
Geomag US
G-Baby
Watch Video
Goldberger Doll Mfg Co
Lavender Doll

Watch Video
Hanzawa
TV Virtual STation
Watch Video
Imperial Toy
Livin' Large Lips and Tips, demonstrated by Irina Blekh

Watch Video
Interactive Toy Concepts
Vamp
Watch Video
iToys
Spiderwick Chronicles
Watch Video
Kid Galaxy
RC Plane, demonstrated by Lisa Couture

Watch Video
Neat-Oh! International
Small Town ZipBin, demonstrated by Wayne H. Rothschild

Watch Video
Nextsport Inc.
Fuzion
Watch Video
Nomaco
Planet FOAM DreamBuilders Construction System, demonstrated by Jeff Slater

Watch Video
Peg Perego
Gaucho Super Power
Watch Video
PlaSmart
iGami, demonstrated by Tracey McIlwane

Watch Video
Poof Slinky
Magic Shot
Watch Video
Reeves International
Saddle Club Horses
Watch Video
Safari Ltd.
Collector's Packs, demonstrated by Teresa Duddles

Watch Video
Small Miracles Inc.
Let's Pretend Police Officer and Veterinarian, demonstrated by Scott Nesson

Watch Video
Watch Video
Snap TV
Pokemon DVD Game, demonstrated by Jason Tenenbown
Watch Video
TDC Games
Man Laws & Woman Rules Board Game, demonstrated by Sandy Bergeson

Watch Video
Tech Group
Supa Splat & Trigger Splat
Watch Video
Watch Video
The Marshmallow Fun Company
Marshmallow Bow and Mallow
Watch Video
The Orb Factory
Sticky Mosaics Castle, Collectors Series
Watch Video
WeGlow International

WeGlow Ware
Watch Video
Zen Design Group

SEE Toys Dynafly, demonstrated by Sun Yu

Watch Video
Catalog Request Form

Writer's Bio:
ALISON MAREK is a writer/artist/filmmaker whose work has been published by Fairchild Publications and DC Comics (Piranha Press), among others. Her short films have won awards in festivals around the world and have been broadcast on Showtime and other cable networks. Her new web series, "Mugg's Movers," was sponsored by FlatRate Moving Systems LLC and was selected for an NYU webseries showcase at
writerslabwest.org/webshowcase
. Alison is also the writer of the 2011 Emmy-nominated PSA "Tell Someone," for the Legal Aid Foundation of Los Angeles.
Read more articles by this author


Advertisement: