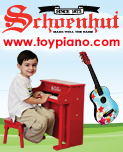 Article Tools:








Get These Toys!
Here's What's Hot Right Now for Some of Your Peers
Suddenly out of out-of-doors toys and have to order fast? This month, two retailers from a survey of 60 spontaneously mentioned the Air Pogo, a pogo stick on a rope swing, as a top seller. Early word on KidsGive's Karito Kids was that they would be a keeper. However, on December 7, two different retailers in a survey of 12 said the dolls were flopping. Bananagrams, however, is still selling like bananas, said 4 of 12 storeowners.

The recalls might have finally caught up with Thomas the Tank Engine, because it's tanked, 3 of 12 retailers said. But, for the most part, the recalls that shook up the mainstream toy industry have sent customers into specialty toy stores. Almost everyone told

TD

monthly Magazine that traffic is up, and so are requests for European toys such as Haba and Selecta.

Meanwhile, demand for still-hot Webkinz is starting to waver for some, and may plummet for stores near a Wal-Mart or J.C. Penney, which are both carrying the plush toys for the holidays. Although almost every retailer surveyed was shying away from the new Kookeys by 10Vox, they're a surprise seller at Hoopla in Decatur, Ga., and Owner Sabrina told TDmonthly, "They're going to be hot."

Here's what flying this month: (See last month's Get These Toys!)
.
The Automoblox M9 comfortably seats eight of our cool, blue people. The extra-long main passenger compartment and additional seating for four in the rear block give this vehicle the longest wheelbase in the line-up. Now your child can build a minivan like mom's that even dad will want to drive.
.
.
Suitable for ages 6 months and up, this simple set includes 12 colored cubes in six different shades. Each measures 1.75" square.
.
.
Curvino, a push toy that becomes a steerable truck when the handlebar is removed, is an heirloom toy. With quality craftsmanship made from durable, natural materials, this toy can be passed down through the generations. Because of its maneuverability and versatility, it will provide loads of fun for your older infant or toddler.
.
.
.
.
.
A modern adaptation of the classic game of hide-and-seek, Hide & Seek Safari features an exclusively designed Seeker — a "magically" sensitive wand that resembles a tree branch — that players must use to track down the elusive tiger. As players close in on the hiding tiger, the wand lights up to show them the way. The Seeker sounds an alarm when the tiger is near. The game can be played both indoors and outside, with multiple Seeker wands and multiple hiding animals (additional animals to be released).
.
.
.
.
Catalog Request Form


Advertisement: