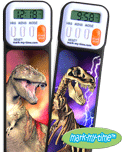 Article Tools:








Our First Toy Fair: Games
Find Out What's on the Board
Before you hit Toy Fair, check out these new companies who told

TD

monthly Magazine they were exhibiting at the show for the first time. Even if you don't make it to New York,the

TD

monthly video crew will be bringing back plenty of demonstrations of new games and toys so you can decide what to order for 1Q:
.
.
For thousands of years, Senet was the most popular game in the ancient world ― until the rule book was lost. This game of Senet introduces a modern rule book, a colorful game board and 10 beautiful playing pieces. Easier than chess and more complicated than checkers, this two-player game is a combination of strategy and luck. It's simple enough for a 5-year-old to learn, yet interesting enough for adults. The hand-painted playing pieces are phthalate- and lead-free. Launch date: January 10, 2008.
.
.
Learn poker along with Berry "The Bluffer" Bananahammock, "Fearless" Freddy Funkymunky, Albert "All In" Alexander and Mr. Bill "Bananas" Dole as they play Texas Hold 'Em. The game is easy to learn, and adds the entertaining randomness of such classic children's games as Monopoly and The Game of Life. The winner of each poker hand takes a card that dictates a certain task, such as "Take $1000 in Chi(m)ps from everyone, except for the person with the hairiest feet!" Launch date: December 2007.
.
.
.
This game for two to eight players makes communication more physical, exciting and fun. Participants toss the 6" bright orange plush cube to one another and answer thought-provoking questions from cards that they pull from Kubit2me's denim pockets. A perfect game to play with friends, at family parties or at just about any group get-together, this non-competitive game comes with 99 friendship stickers and encourages open and honest communication about topics that affect our everyday lives, such as relationships, beliefs, opinions, memories and more. It even has a secret compartment for storing cards and stickers. This product received a 2008 Preferred Choice Award from Creative Child Magazine, a 2008 Award of Excellence and Editor's Choice Award from The Toy Man, and was named one of Dr. Toy's Best Picks 2009. Launch date: September 2007.
.
.
.
Catalog Request Form


Advertisement: