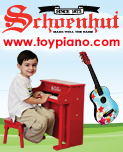 Article Tools:








Voxal
Taking Puzzles to a New Dimension
TD
monthly is looking for new companies who have a lot to gain — or lose — from their Toy Fair debut for our documentary, Toy Frenzy! Voxal LLC's Fabio Elias quit his stable job as a manager for a major software firm to pursue his dream of bringing a novel 3-D puzzle to the toy world. In February, he'll find out how that world reacts.

Read his story below, in his own words.
Before starting my company, I had the concept for the basis of Voxal. I filed my first patent in 2004 or 2005. At the time, I was working as a manager for services at a major software firm and was trying in my spare time to license the concept of Voxal, using crude prototypes.

I got an agent who said it was the not the type of product that could be licensed easily. But he really encouraged me to go ahead; he said it was a really nice product at a nice price point.

A PUZZLING DEPARTURE

Because of my job, I didn't have much time, so a little more than two years ago I decided to leave. My job had nothing related to toys. I had no background in it at all! It was a tough decision. This was risky, but it was an opportunity to work on something I'm very enthusiastic about.

What I was seeing was that there was another product, licensed through the same agent, that had the same "unlicensable" features as mine. The agent explained that it had been on the market awhile, and people saw the product was good. So I took my savings and all the money I had to work on my product to make it easier to license.


ROOTS GIVE BACK

I've lived in United States for seven years, but I'm a Brazilian. I have more contacts there than here, so I started doing it there and in the end outsourced the whole production there.

At the beginning, I tried to look for investors, but it's hard. Normally, they invest in technology a lot. That's my background area. But I kept going and now I'm in the position where I tried a few things in Brazil in the stores and got feedback there. Friends gave feedback, too.

Now I'll be at Toy Fair in New York. All by myself! It's risky.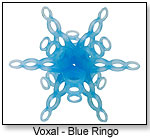 I don't know if it'll really be a hit or not, but I see the possibility of it happening because people really like it. Next, I'll have to turn to marketing and advertising — I don't have that kind of money.

3 PIECES = 3-D MASTERPIECE

The cool thing about Voxal is that there's a kind of magic quality. It's just three pieces. Three identical, flat pieces. Putting them together to create a star or other shape is not easy. It's very challenging. But once you put it together, it's a very pretty object. You have a sense of accomplishment.

You start out with nothing but three pieces and now you have a beautiful, symmetric star. People ask you what it is, and they're intrigued and want to know how to do it. It's very fulfilling to do it.

Watch You Tube videos of Voxal: teens playing and product demo.
Catalog Request Form


Advertisement: