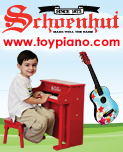 Article Tools:








C-Me LLC's Eat It!
Palatable Board Game Shows Up on Dinner Tables
"If there were a game about snacks, candy, cookies … she would definitely win!" — Eric Ash, C-Me
Though they're getting ready for their third Toy Fair, the folks at C-ME are still hoping to be picked to be a Toy Frenzy! subject. Read how their game Eat It! got its start, in founder Eric Ash's own words. It's a great tale for inspiring newbies: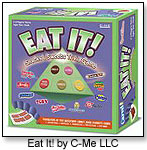 The idea was conceived while my wife, Monica, and I were vacationing in Florida over July Fourth weekend, 2004. We were sitting on the beach with my wife's cousin, Christine Jennings, discussing board games. Christine lamented that she hated losing trivia games to her teenage son. She said that if there were a game about snacks, candy, cookies, ice cream, etc., then she would definitely win!

We all laughed and reminisced about the snack products with which we grew up, including their jingles, commercials, etc. A couple of weeks later, Monica and I called Christine and told her that we wanted to create a trivia board game and form a partnership.

It took around six months for us to research and write 2,000 trivia questions. The EAT IT! questions range from nostalgia and pop culture to origins, advertising, ingredients and much more. There are five categories: Chocolate, Candy, Cookies, Snack Attack, and Ice Cream & Desserts.

We also contracted with a graphic designer who helped us to design all of the game components, including the board, box and card decks, as well as to construct the original prototypes.

MORE THAN HALF-BAKED

After receiving excellent feedback from focus groups, we were ready for Toy Fair 2005. Our initial investment for a dozen prototypes of EAT IT! Snacks & Sweets Trivia Game and an attractive booth was around $10,000.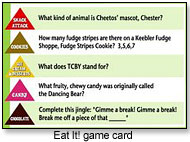 At Toy Fair, response to the game's concept was so great that we decided to move forward with a full production run. Larger retailers like Calendar Club told us at that show that they would place orders for the 4th quarter, so we decided that it was definitely worth a shot! We were even approached by the game buyer from Wal-Mart.com who gave us feedback.

My wife and I quit our jobs early in 2005 to run the board game business. We each have a background in sales and marketing, and Monica is also a CPA.

WHIPPING UP INTEREST

An article in The Washington Post ran in December of 2005 and was picked up by newspapers nationwide. We were receiving orders from game/toy stores as far away as Anchorage, Alaska, who had read about us in their local papers.

Marketing is the big challenge, especially with a limited budget. We needed to obtain retail shelf space but also ensure that consumers know about our game so that it actually moves off of those shelves! We've been very successful in obtaining press.

BUY GAME, GET SNACK MONEY

Our unique branding strategy included obtaining permission to use well-known logos on the game's box top, including those from Tootsie Roll, Russell Stover, Mrs. Fields and Cinnabon. We now incorporate a total of 18 well-known logos. We just launched a new game that includes approximately $5.00 in product coupons inside the box from Cadbury Adams, Sara Lee, Jolly Time popcorn and Auntie Anne's. As far as we know, ours is the first board game to do so!

At each subsequent Toy Fair, we highlight our new branding initiatives. In 2009, we plan on introducing custom game pawns shaped like actual products. We also have plans for future versions.

It has been a huge investment of time and money to launch and grow this business, and it is progressing very nicely. Sales have been strong and they have been growing each year.
This game tests players on their knowledge of snacks and sweets by asking them fun and clever trivia questions across five tasty categories: Chocolate, Candy, Cookies, Snack Attack, and Ice Cream & Desserts. The types of trivia questions range from jingles and advertising campaigns to ingredients, nostalgia, pop culture and more. "EAT IT! Snacks & Sweets Trivia Game now includes [$5.00 in] coupons for Sara Lee desserts, Jolly Time popcorn, Auntie Anne's pretzels, Cadbury Adams Swedish Fish candies and Sour Patch candies," C-Me LLC CEO Eric Ash told TDmonthly.
ToyDirectory Product ID#: 3367
(added 4/18/2005)
.
Catalog Request Form


Advertisement: