Lumisource, Inc.
Express yourself with the Firefly Floor Lamp by Lumisource, Inc. Use the numerous lamp arms to form an art display when you put it together. This amazing chrome-finish lamp has multi-colored sconces that use 10-watt halogen bulbs. A fabulous addition to make your room stand out from the rest!
Variety Store Imports
Brighten up your bedroom or kitchen with the new neon table lights by Variety Store Imports. Place a Palm Tree on your desk and pretend you are on a tropical island. Use it on the bar during a Hawaiian themed party to set the right mood. Or just turn your bathroom into a tropical paradise! Each neon sign is wall mountable too! $20.00.
Adams Apple

Put in a new black light into you room that does not require you to find the switch in the dark. With the Remote Control Blacklite by Adams Apple, you can turn the black light on and off by squeezing the convenient remote control or by clapping your hands. The remote control works up to 50 feet away! Mount the black light on the wall or ceiling to get the most room coverage!
Athinos Lighting, LLC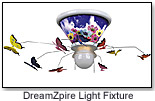 Replace the central light fixture in your child's bedroom with the DreamZpire Light Fixture with Butterfly SnapThemz by Athinos Lighting, LLC. This multi-purpose fixture acts as a bedroom light, nightlight, and a hanging mobile. Watch the beautiful butterflies fly around the ceiling, amongst the clouds and flowers. It is calming and relaxing, so you can get a good night's rest. $79.00.
Knight Lights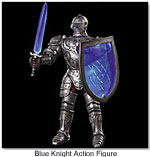 Allow your little knight to fall asleep while the glow from the Blue Knight Action Figure Knight Light by Knight Lights keep him safe. This original night light is a 10-inch figure of a knight adorned with complete fighting armor and weapons. His eyes, shield, and sword emit a soft blue color. In the daytime, this knight can also be used during play! $20.95.
Fascinations
Compliment any area of your house with the new Liteweight Copper Accent Lamp by Fascinations. This handcrafted copper lamp has an antique-finish and an Old World design. Position the lamp to spotlight notable objects, such as your favorite plant or painting, from any angle to grab any visitor's attention and to create a sophisticated feel to the room.