FOR IMMEDIATE RELEASE
Contact: Alison Marek, Managing Editor
Phone: (310) 979-4330
E-mail: alison@toydirectory.com
www.tdmonthly.com
www.toydirectory.com




BUY INNOVATIVE AND EDUCATIONAL TOYS
WITH TDMONTHLY MAGAZINE'S 2008 HOLIDAY GIFT GUIDE





Shopper-Friendly Advertising Venue Offers Original Finds and Click-Through Convenience




Los Angeles, Calif. (October 21, 2008) – Parents can forget browsing aisles and braving crowds for the ideal holiday gift. Instead, they can visit TDmonthly Magazine's Holiday Gift Guide to encounter toys that encourage learning and promote creative play for children of all ages. Filled with gifts from more than 150 companies — most of which can't match the multi-million-dollar television advertising budgets of the biggest toymakers — the guide gives discerning shoppers a chance to discover one-of-a-kind gifts from some of the lesser-known gems of the toy world. Consumers can simply click the "I Want One" links to connect to e-commerce sites that sell these items.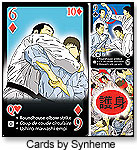 With the variety of offerings in TDmonthly's guide, kids can experience playtime in multiple ways — fashioning animals with fuzzy, colorful pipe cleaners from Brain Noodles, studying self defense or the periodic table while playing cards from Les Entreprises SynHeme, or putting on a show with puppets from Folkmanis.


TDmonthly's Holiday Gift Guide features products from more than 150 companies and can be accessed here: http://www.toydirectory.com/monthly/hgg/. The toys tend to be new introductions for 2008 and specialty toys not found in mass-merchandise stores. A lucky few have even been honored with a 2008 TDmonthly award, recognized by the experienced and expert staff at TDmonthly Magazine for being especially innovative and high quality.

About ToyDirectory.com® and TDmonthly™ Magazine
For more than 12 years, ToyDirectory.com has been connecting retailers and manufacturers within the specialty toy industry. As of September 2008, Google™ ranks ToyDirectory.com the No. 1 site in the world for wholesale trade directories. Yahoo!® has been rating ToyDirectory.com the most popular business-to-business directory for the toy industry since 1998. ToyDirectory.com and its subsidiary, online trade publication TDmonthly Magazine, accelerate business among toy-industry professionals by providing a central online meeting place where retailers can quickly locate new products and companies, and manufacturers can promote their product lines, awards and specials. ToyDirectory and TDmonthly's community of 1,200 manufacturers and 27,800 registered retailers can download toy videos for their websites, find out what's selling nationwide, read about breaking news and trends, and get advice from experts on how to develop and maintain profitable relationships. TDmonthly includes a searchable database of more than 17,000 products, 1,100 product demonstration videos and more than 3,000 pages of articles and tips.