Article Tools:








FOR IMMEDIATE RELEASE
Contact: Alison Marek, Managing Editor
Phone: (310) 979-4330
E-mail: alison@toydirectory.com
www.tdmonthly.com
www.toydirectory.com




FREE SPECIALTY TOYS REPORT OFFERS
SOUND INVESTMENTS THIS HOLIDAY SEASON





TDmonthly Magazine's Comprehensive Report on 200+ Products
Has Answers for Safety-Conscious, Economical Shoppers



Los Angeles, Calif. (October 21, 2008) – In an economy that demands frugality and smart, informed choices, consumers want to be certain that their money is well spent. Parents seeking safe, quality toys can shop with confidence this holiday season by tapping into TDmonthly Magazine's free 2008 Specialty Toys Report, "Positive Toys for a Promising Future."™

They won't find the latest over-advertised video games or Elmo Live among the more than 200 toys, games and infant products reviewed in the Report and, in contrast to many reports and awards, won't encounter manufacturers who paid a fee to be featured.
But they will find new and popular products from mostly smaller companies that cater to children's healthy development through educational and imaginative play — products designed to outlast the trends of a single holiday season and provide value for years to come. Consumers can search these options by price to easily stick to a budget without sacrificing the quality of their gifts. (See video of select toys from the Report.)

Parents can trust the independently nominated products, such as Scavenger Series Kits by Überstix, Baby Deglingos from All New Materials, and Sticky Mosaics from The Orb Factory, as the toys have been evaluated by TDmonthly staff, experts and/or children and parents, and no companies paid fees to be considered for or included in the Report.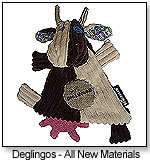 TDmonthly's Specialty Toys Report puts shoppers "in the know" with testing and safety information, plus data on where a toy is made. Fourteen percent of the 200+ products in the Report are made entirely in the USA, for example, and nearly 50 percent are safety tested at least once per year.

While the Specialty Toys Report was first created to help retailers research great products to provide to their customers, TDmonthly decided to share this invaluable resource directly with consumers, too.
Since it was originally designed for toy professionals, the Report houses information above and beyond what other websites and awards lists offer to consumers.

"We felt it was important to allow consumers access to this vital information for free," said TDmonthly Publisher Bob Naimi. "Parents want to find unique and high-quality toys for their children, but don't know where to begin. The Report points them in the right direction."

The Report also gives consumers purchasing options, linking to various e-commerce sites, so that shoppers don't have to waste hours searching the Web to find what they're looking for. In addition, it includes consumer reviews and ratings of many games and toys covered, giving caregivers further confidence in the toys they choose for their kids.

Products in the Specialty Toys Report, including the 44 winners of a 2008 TDmonthly award, are independently nominated based on several factors, including editorial evaluation at industry trade shows (e.g., American International Toy Fair), consumer review and specialty retailer recommendation. Because TDmonthly is a trade magazine devoted to identifying new trends in the specialty toy industry, and assesses many hundreds of toys, games and other products for kids and families each year, its staff is uniquely qualified to recognize toys of superior value.

TDmonthly's Specialty Toys Report can be accessed by visiting TDmonthly.com and clicking the red "Specialty Toys Report" icon at the top of the page.

About ToyDirectory.com® and TDmonthly™ Magazine
For more than 12 years, ToyDirectory.com has been connecting retailers and manufacturers within the specialty toy industry. As of September 2008, Google™ has ranked ToyDirectory.com the No. 1 site in the world for wholesale trade directories. Yahoo!® has been rating ToyDirectory.com the most popular business-to-business directory for the toy industry since 1998. ToyDirectory.com and its subsidiary, online trade publication TDmonthly Magazine, accelerate business among toy-industry professionals by providing a central online meeting place where retailers can quickly locate new products and companies, and manufacturers can promote their product lines, awards and specials. ToyDirectory and TDmonthly's community of 1,200 manufacturers and 27,800 registered retailers can download toy videos for their websites, find out what's selling nationwide, read about breaking news and trends, and get advice from experts on how to develop and maintain profitable relationships. TDmonthly includes a searchable database of more than 19,000 products, 1,400 product demonstration videos and more than 3,000 pages of articles and tips.
Catalog Request Form
THIS BANNER IS AN AD:
---
---


Advertisement: