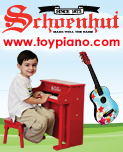 Article Tools:








Fairies and Classic Water Toys Hit the Back Yard
Swimways and Hasbro Entertain For Summer
"The best sellers will be those that can keep kids entertained on a hot day." — Jeff Tyner, Captain Kid's Toy Chest

A day at the beach is wonderful, but not always practical or affordable, which is why toy manufacturers this year are especially focused on bringing the amenities of a warm vacation to people's own back yards.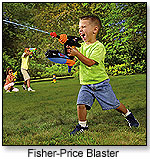 "People will probably stay home more," Jeff Tyner, owner of Captain Kid's Toy Chest in Huntington Beach, Calif., which specializes in water toys and pool toys, told TDmonthly Magazine. "There will probably be more squirt gun parties" rather than taking a group of kids to a costly water park for a birthday.

Home water slides, water pistols and sprinkler attachments will be must-haves, he added.

20 YEARS OF SUPER-SOAKING FUN

To that end, Fisher-Price is introducing Turbo Fill Blasters, which allow children to reload on the go so their fun doesn't end when the gun goes dry. A detachable tripod base connects to a garden hose, waiting for a quick hook-up to get kids back in the action when they run out of water.


Hasbro is celebrating the 20th anniversary of the original Super Soaker water gun in a big way, with the relaunch of the classic Super Soaker 50, combining a retro look parents remember with the high power modern technology can produce.

In addition to water blasters, companies are also presenting various toys and games for the summer season.

SwimWays, for one, has a fleet of pool toys suitable for a family "staycation."

FAIRIES AND SWIM AIDS HIT THE POOL

A new line of Water Girlz features playful fairies that can be posed and played with in the house or under water. The Fairy Tails miniature mermaids with wings come with a seahorse friend and a seashell comb. The Fountain Fairies launch into the air, trailing water as they go. Both toys also have an under-$10 price point.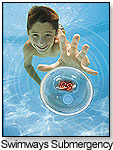 Children love the water, but sometimes they need some help playing safely and learning to swim. Swim Steps teaches skill and confidence in the water to kids of different ages.

Swim Steps Fishkicks, for example, are foam boards with handles kids can grip to stay afloat while they develop their swimming ability. They come in two different styles, angelfish and clown fish.

BEST SELLERS SHOW VERSATILITY

Target stores report that their best-selling pool toys are those that squirt water or float on top of it, a spokeswoman said.

The Dr. Toy award-winning Geyser Gushers, for example, shoot a 1"-thick stream of water up to 30 feet. And the SwimWays Submergency Water Toy takes diving toys to a new level, compelling kids to dive into the water, search for the toy and "deactivate" it before the timer runs out.


Other best sellers at Target are games for in and under the pool.

Containing four dive rings, four dive and relay sticks, and six diving discs, Poolmaster's 3-in-1 Underwater Game Set has enough to keep a family busy for many summer days. The company's Floating Target Game combines darts and tennis to test skills for play in and around the pool, and the Classic Pro Water Basketball Game is a hoop is light enough to float atop the surface of a pool or lake, yet durable enough to take the beating of a full-court press.

As Tyner said, "The best sellers will be those that can keep kids entertained on a hot day."

See new water toys below: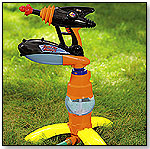 MSRP: $34.99
Age Range: 3 and up
Launch Date: April 2009
Gender: Boys And Girls
Fisher-Price calls this squirt gun a "one stop, fast fill water station for kids." It comes with a base that children can quickly attach to the gun and fill its tank in 15 seconds or less. It's then ready to squirt with no pumping required. Kids can recharge and go right back to the action. The system includes one water blaster and a base with a hose connector. Launch date: Spring 2009.
ToyDirectory Product ID#: 23231
(added 4/9/2009)
.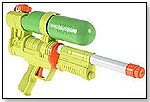 MSRP: $14.99
Age Range: 6 and up
Launch Date: April 2009
Gender: Boys And Girls
Hasbro has relaunched this original water blaster. It has a retro look but modernized power. The Super Soaker 50 holds up to 25 oz. of water and shoots up to 35'. Launch date: Spring 2009.
ToyDirectory Product ID#: 23230
(added 4/9/2009)
.
MSRP: $9.99
Age Range: 5 and up
Launch Date: April 2009
Gender: Boys And Girls
For children who want to swim like a fish, these foam kickboards train them how to just keep swimming. There are two styles, angel fish and clown fish. Each has secure handles for kids to grip while they learn and a wobbly eye that's just for fun. It is part of the Swim Steps line that teaches children how to swim while having a good time. Launch date: Spring 2009.
ToyDirectory Product ID#: 23228
(added 4/9/2009)
.
Kids can test their skill in this dartboard-style game that floats on the water or can be stationed pretty much anywhere outside. It comes with six balls for teams to compete for accuracy.
ToyDirectory Product ID#: 23225
(added 4/9/2009)
.
This one-stop water game includes four dive rings, four diving relay sticks and six diving discs.
ToyDirectory Product ID#: 23224
(added 4/9/2009)
.
While pool basketball is a classic, players don't have to be pros to enjoy this game. The floating hoop is made from non-corrosive PVC construction. The three-way support helps keep it upright and the heavy-duty, hand-woven polyethylene net is designed for durability. It includes a Classic Pro game ball.
ToyDirectory Product ID#: 23223
(added 4/9/2009)
.
Catalog Request Form

Writer's Bio:
Chris Lundy is a freelance writer and game designer who covered municipal news for several New Jersey newspapers. He's also written comic books and short screenplays.
Read more articles by this author


Advertisement: