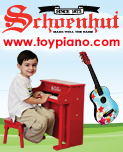 Article Tools:








Top-10 Most-Wanted Infant & Toddler Toys
Oballs and Taggies Reign Supreme in Baby Gifts
With additional reporting by Terri Hughes-Lazzell, Chris Lundy, J. D. Meisner, Claudia Newcorn, Marie Raven and Brenda Ruggiero

Infants and toddlers, or at least the consumers who buy for them, especially love Rhino Toys' Oball and Taggies blankets, a TDmonthly Magazine survey of 64 specialty retailers revealed. Plush from HABA, Cloud b, Manhattan Toy and Douglas are also selling well for babies, as are general toys from Wow Toys and International Playthings and the ever-popular Rody from Toymarketing International. See the full line-up below:
.
.
.
.
.
.
.
.
.
.
Catalog Request Form


Advertisement: