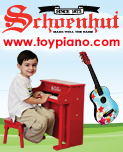 Article Tools:








Top-10 Most-Wanted Bath Toys
Alex Splashes Other Toys Out of the Tub
With additional reporting by Terri Hughes-Lazzell, Chris Lundy, J. D. Meisner, Claudia Newcorn, Marie Raven and Brenda Ruggiero

To say that toys by Alex-Panline dominate bath time would be an understatement. Nearly 70 percent of 64 specialty retailers surveyed this spring named the Alex line, or particular products from it, when discussing best-selling bath toys, beating even last year's hype over the brand. Mentions of other vendors were few and far between, although Toysmith, Elegant Baby and Schylling did make the cut for TDmonthly Magazine's top-10 most-wanted bath toys. See them all below:
.
.
.
.
.
.
.
.
.
.
Catalog Request Form


Advertisement: