Article Tools:








TDmonthly Goes Inside … Toy Crazy, Malibu
Games and Pirates Make Waves in Beachside Store
In 1998, when Melissa Moore opened the first Toy Crazy in Malibu, Calif., the beachside town was a lot more laidback than it is today. Sandals and cutoffs were de rigeur fashion and iconoclastic specialty shops the norm. Now, her mall is filled mostly with high-end chains and her customers frequently include Hollywood celebrities, she told TDmonthly Magazine.



Get the Flash Player to see this video.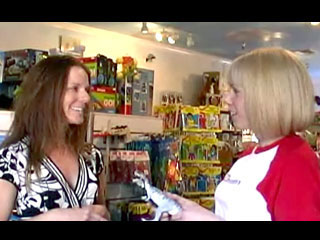 Despite the changes, Melissa has managed to maintain Toy Crazy's distinct identity. At both her Malibu and Brentwood stores, she focuses on specialty products that her clients cannot find elsewhere and pays attention to trends, such as higher demand for infant products, eco-friendly toys and muted colors that suggest natural dyes and paints. Though she offers some generic beach items, the bulk of her non-infant sales comes from family games and dress-up.

See toys that sell well at Toy Crazy in the videos below (please scroll down the page to see them all) and watch the video above to hear Melissa explain what makes her store unique and why it has lasted for more than a decade.

Here are some toys that Toy Crazy customers are crazy for:
.
Suitable for ages 3 months and up, this activity toy features bright colors and pictures of expressive baby faces by renowned photographer Penny Gentieu. It features various textures along with a bell, a rattle and teething accents.
.
Taggies Naturals are ideal for the family that embraces a natural lifestyle and has both safety and the environment in mind. These small 12" x 12" blankets are made of exceptionally comfortable, 100% certified organically grown cotton fibers, pure silk ribbons and safe dyes. With an eco-friendly conscience, the Naturals collection offers sophisticated and unexpected prints. Launch date: 2009
.
The Gyro-discs spin up to 1000 rpm. Just hold the 11" metal ring and strike the smaller, colored discs. As you rotate the ring, the discs begin spinning faster and faster, like mini-gyroscopes. At first, the challenge is to keep all the discs spinning. Once you can do this, there are several tricks and stunts to master.
.
Babies can be at home wherever they go, if the Monkey Mat goes with them. This extra-soft plush playmat and rug will keep baby safe and clean.
.
Toddlers will love leading the parade with this wooden elephant that claps two cymbals together when pushed along. With a large wooden knob for easy grasping, this is a wonderful first push toy to accompany those first steps. Brightly painted with non-toxic paint. It measures 21.5" x 7" x 5" assembled.
.
Young children will enjoy this as a counting game, while two to four older players will enjoy it for the strategy. Our heirloom quality version of this classic seafaring game has a latching wooden box that features a transparent, shatterproof top and flipping wooden number tiles. It includes two dice, a convenient storage pouch and a detailed instruction booklet.
.
The Pirate Set includes panne vest, and a hat made from durable laminated panne. New this year, the set includes the Eye Patch. It comes in black or red.
.
The Knight Set (60063) is made of a laminated silver spangle in a tunic style with elastics attaching the sides for flexibility. The Knight Set comes with a reversible hood, the Knight Glitter Cape and the Crown are sold separately. The Fairy Dress with Wings (34633) is made of a lilac crepe satin ruched top and the skirt is made of layers of tulle and soft lilac tricot. The attached wings are covered with silver sparkle tulle.
.
This soft foam pirate saber will make a little blackbeard feel like the king of the seas, without causing any harm.
.
.
This fairy tunic features a bridal satin top with multiple layers of tricot and tulle for the skirt. The fairy tunic is designed to be worn over clothes, and it fastens at the sides with adjustable satin ribbon ties. Trimmed with ribbon roses, this fairy dress is sure to be a hit with any fairies-to-be. It features satin-tie ribbons allow for size flexibility at the waist. It comes in light pink, dark pink, lilac and purple.
.
Playing with puppets can be a joyful experience for children as they create stories, use new words and practice fine motor skills to make puppet gestures.
.
Kids can shiver timbers anywhere with this fierce pirate puppet.
.
This pig glove puppet is soft and easy to manipulate. Snort.
.
This wind-up musical doll rolls her head in time with the music. She's "Jo" in the "Little Women" collection.
.
Mopley is a 12" curly white plush lamb with corduroy face and legs and zig-zag top stitching.
.
This double stroller is perfect for toting twins. It features a pink plastic frame and pink fabric.
.
A low center of gravity and wide wheels give this classic wooden push trike stability enough for the tiniest of tots.
.
Thornwald will come alive with a child's imagination for puppetry magic. He features plush fur and googly eyes.
.
This realistic butterfly puppet features spreading wings and tentacled eye stalks.
.
This squishy squid-like creature features a textured underbelly that mimics the animals tentacles.
.
.
This ball can bounce up to 50' high.
.
Catalog Request Form