Article Tools:








TDmonthly Goes Inside ... Pixie Toys, Long Beach, Calif.
Where Fairies Play, Kids Craft and Photo Memories are Made
Get the Flash Player to see this video.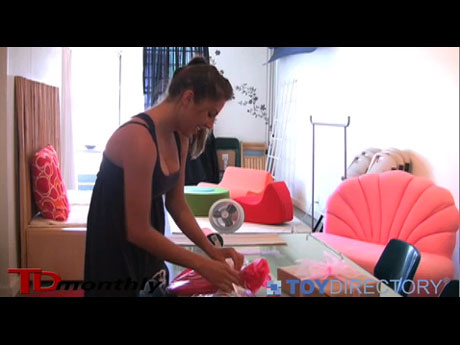 Heather Daykin was born to toys. Her mother ran a toy store, and when it came time to decide her own future, selling toys was the only option that appealed to her. She opened the first Pixie Toys three years ago, then changed locations twice, settling in the Bixy Knolls area of Long Beach, Calif., on a street lined with other specialty shops.

Choosing pixies as her theme, Heather created a woodland atmosphere in her store and chose open shelves that allow kids to grab and play with the many different types of specialty toys she offers. She offers extras to her customers, such as craft days and movie nights, plus has the bonus of an inhouse photography studio. By pairing up with shooter Vangie Ogg, Daykin gets to split the rent as well as the clientele, many of whom will pick up a toy as a treat for a good session.

Here are some of Heather's fairy best toys:
.
.
The Dinosaur Dish Set includes a plate, bowl, cup, fork and spoon. The melamine is BPA free and the set conforms to or exceeds U.S. and European safety standards. Gifts sets are 15"w x 11"H x 3"D. It is top-rack dishwasher safe or can be handwashed in warm water.
.
.
.
This elegant 12" knitted butteryfly is musical, too. When his tail is pulled, he plays a Brahms lullaby.
.
This 8" velour cow is soft and cuddly for infants.
.
These mom and baby bovines are tethered together. When the string is pulled, they make music.
.
This soft wagon carries a load of sensory toys for baby.
.
Soft and light, the 7.5" Cosmidoux Hang Up Rattle is a snuggly that can be hung on the stroller, on the cradle or simply manipulated in baby's hands. It jingles softy and is machine washable.
.
These colorful car seat covers are removable for washing and can also be transferred to shopping carts to keep baby clean. The covers are made by a Long Beach, Calif., mompreneur.
.
This pretty infant dress can later be worn as a top. The dress is made by a Long Beach, Calif., mompreneur.
.
.
The Tootsie Roll Metal Lunch Box is printed and embossed with "delicious" graphics. It measures approximately 8" x 7".
.
This set includes a week's worth of graphic socks with dots and comes in a gift box.
.
.
.
What kind of mermaid can't swim? These mermaids are fully submersible for bathtub or swimming pool fun. They come with either magenta or purple hair that can be combed.
.
The Mermaid Cookbook by Barbara Beery is filled with delicious, nutrious recipes that get kids thinking about healthy eating while engaging their imaginations. This spiral-bound book is perfect as a gift or for creating themed parties.
.
This mermaid doll is soft and cuddly enough for a young child, but carries detail to foster the imagination of older girls.
.
The Only Hearts Club dolls are wholesome playthings meant to foster healthy self-images in young girls. Karina Grace comes decked out for a day of healthy fun at the beach.
.
A knightly handpuppet brings a new play pattern for boys who like lances a lot.
.
This three-piece set — part dinnertime, part storytime — is a fun take on classic children's tableware. Made of keepsake-quality ceramic and designed for older kids (4-6) who've mastered table manners, each piece depicts a different scene and caption from one of three original, Piggy Story tales. The entire set is microwave and dishwasher safe, and comes nestled in a tin box with matching placemat and a small storybook. The tin box measures 7" x 7" x 4.75".
.
This 9.5" soft and cuddly frog with removable clothing is based on the beloved characters from Arnold Lobel's classic books. NOTE: THESE ITEMS HAVE BEEN DISCONTINUED.
.
.
The bug "pod", with six ribbon legs and antennae, hides a sleepy, 8" doll inside. Ideal as a first baby doll, Snuggle Bug encourages and develops nurturing skills in children. With its embroidered detailing, satin-lined interior and soft exterior, Snuggle Bug will be a favorite snuggle buddy for years to come. It's for babies 6 months and up.
.
.
Catalog Request Form