Article Tools:








In This Issue
Holiday Toys Priced to Sell
In TDmonthly Magazine's four top-10 best-seller articles this month, find out which products are a high priority for the infamous tween set (boys and girls), see what jewelry girls are wearing around their necks or slipping on their wrists (hint: they're "charming" and they "snap!"), and see which brands reside beside the name Toysmith when it comes to novelties.

SPECIALTY'S OWN PRICE WARS

Can specialty stores even come close to competing with Wal-Mart, Target and Kmart's super-low holiday discounts? Granted, they don't carry the same selections — Elmo probably isn't tickling kids or dancing down the aisles of your neighborhood store. But independent toy shops do have handfuls of playful items priced at $10 and under! See which ones came up on retailers' lists around the country.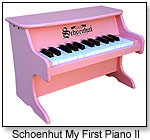 SCHOENHUT GIVES MORE THAN MUSIC

Back in July, TDmonthly selected its very first TDmonthly Charitable Kid to give away 100 Schoenhut My First Piano IIs to needy children in a community. Thirteen-year-old Kimberly of South Carolina was chosen for her passion for playing piano and using music to enhance other people's lives, and for her participation in an effort to raise funds for hungry children worldwide. Now, it's time to see how the first piano giveaways went with the hospitals and institutions Kimberly selected as recipients of the Schoenhut prize.

Below, see a sampling of product's selected for this month's Staff Picks article, which highlights items we think specialty stores should check out:
And if you happen to be looking for that perfect gift for your child or a friend, take a trip through TDmonthly's Holiday Gift Guide to find lovable stuffed animals, challenging buiding toys, unique art projects and much more!
This soft 15" plush is cream, taupe and chocolate-brown with black accents. Patches comes with a sweet smile, adoring eyes, and a comfy place to sleep, and holds a plush, white, bone-shaped rattle for baby. The trim and inner lining is chocolate-brown satin, and a plush tail is attached to the Lovie's lower back. The border design includes embroidered paw prints and a small taupe appliqué with paw prints and a pink bone. Patches comes in a dog house with a red roof, puppy paw prints all around, his tail poking out the back, a sign on the front that says, "Patches" Plush Puppy Lovie, a bone-shaped handle on the roof, and a poem around the base that reads ,"This puppy needs a loving home, A place to play and call his own, With a child to hold him close and tight, One to comfort throughout the night! The dog house gift box measures 8" H x 4 ½" W x 9 ½" D (including Patches' face and front paws peeking from the dog house).
ToyDirectory Product ID#: 25463
(added 10/1/2009)
.
Take Along Teddy
by
VERMONT TEDDY BEAR
Other products from VERMONT TEDDY BEAR
TDmonthly rating:

MSRP: $19.95
Age Range: All Ages
Launch Date: November 2009
Gender: Boys And Girls
The Vermont Teddy Bear Company's Take Along Teddies feature a fun, flat design that makes them perfect for bedtime, travel or taking along on trips. These flat bears are handmade in Vermont and are unconditionally guaranteed for life. Injured flat bears can be sent to the Bear Hospital and the company will repair or replace them for free. Take Along Teddy is available in Cow Print, Espresso, Snow, Maple, Blue and Pink fur.
Awards: 2010 Creative Child Toy of the Year (Plush Toys for Travel)
ToyDirectory Product ID#: 25526
(added 10/5/2009)
.
MSRP: $25
Age Range: 102 to 8
SKU or Item #: jj-002
Launch Date: October 2009
Gender: Boys And Girls
This whimsical giraffe has a poseable neck for playtime fun. It is made from naturally sustainable rubberwood and organic cotton fabric. "Our toys educate children, encourage them to use their imaginations, and provide knowledge to help make eco-conscious decisions," Michael Daner, president of I Love My Planet Toys, told TDmonthly. Launch date: October 7, 2009.
ToyDirectory Product ID#: 25514
(added 10/5/2009)
.
Catalog Request Form

Writer's Bio:
Julie L. Jones has written articles for both newspapers and magazines. Before joining the staff of TDmonthly Magazine, she worked as a communications writer and provided editorial support for a market research company.
Read more articles by this author


Advertisement: