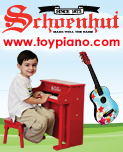 Article Tools:








Top-10 Most-Wanted Dolls
Corolle and Manhattan Toy Provide Steady Favorites
With additional reporting by Terri Hughes-Lazzell, Chris Lundy, Claudia Newcorn and Brenda Ruggiero
A recent survey conducted by TDmonthly Magazine polled 43 retailers nationwide about the sales in their doll departments. Classic baby dolls designed for nurturing role play go out the door for little ones, while bright colors and big personalities like Fancy Nancy interest the slightly older set. With a desirable blend of quality, durability and play value, Corolle continues to rule the top-10 best sellers. Manhattan Toy's Groovy Girls, a line kept fresh with the introduction of new girls and concepts, also remains a hot item on toy store shelves. Here are the top-10 most-wanted dolls.
.
.
.
.
.
.
.
.
Catalog Request Form


Advertisement: