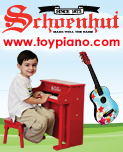 Article Tools:








TDmonthly's Top-10 Most-Wanted Science & Nature Toys
Kids Explore With Electronics and Eco-Friendly Kits
With additional reporting by regional correspondents Marie Raven, Claudia Newcorn, Brenda Ruggiero, Chris Lundy, and Pete Fernbaugh

Science is becoming hipper and hipper thanks to electronic innovations and the "green" trend, according to TDmonthly Magazine's August 2010 survey of 43 specialty retailers. Animal habitats from Insect Lore and Wild Creations continue to maintain steady sales, and Elenco's Snap Circuits keep youngsters busy with easy-to-assemble gadgets. Meanwhile, kits from Toysmith and Thames & Kosmos are becoming top sellers by turning conservation and recycling into creative activities. See TDmonthly's Top-10 Science & Nature Toys below:
.
.
.
.
.
.
.
.
.
Catalog Request Form


Advertisement: