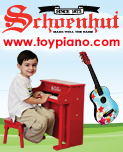 Article Tools:








Barbie Poses Moral Doll-Emma
Do Dreams of Perfection Make Girls Vain … Or Creative?
"More and more, it's clear, women are supposed to be like girls, and little girls are supposed to be like women." — Dr. Diane Levin, author of "So Sexy So Soon"

Last issue, we learned that high-fashion womenswear designers are lining up to dress Barbie – that universal beacon of over-the-top womanhood. Although the high-priced celebrity-designer dolls are meant for adults, is that who's buying them?

Hanging With Hotties


In May 2010, controversy erupted in Minnesota, where a suggestively dressed doll in the adult-aimed Barbie Basics Collection was stacked close to the play Barbies at a Super Target.

"I don't want [my daughter] to think that she has to be this busty Barbie who is constantly wearing heels and these low-cut shirts," mother Andie Whitaker told local NBC news station WPTV, according to multiple news sites.

Target reportedly said the Barbie Basics Collection would continue to be sold, but the company did not clarify whether these dolls would be stocked in a different location.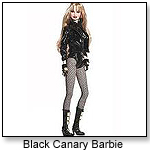 Then, there was the Black Canary Barbie, based on the DC Comics character, which was released in September 2008 and targeted at young girls. The character's uniform of fishnet stockings, black gloves, boots and a faux-leather motorcycle jacket was deemed to be "filth," by the religious group Christian Voice.

Arguments Reborn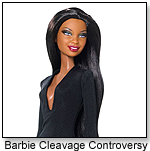 The maturing of the Barbie product line leads back to the arguments against the doll, many of them as legendary as Barbie herself.
"There's been a steady escalation of focus on appearance and sexiness in dolls for girls at younger and younger ages," Diane Levin, education professor at Wheelock College, and author of the book, "So Sexy So Soon," told TDmonthly. "One of the big problems is that their play becomes fashion. … They become more like robots doing what the toy tells them to do, and what the toy is telling them to do is highly sexualized. …

"More and more, it's clear, women are supposed to be like girls, and little girls are supposed to be like women. The boundaries are being blurred more and more as to what it means to be a grown-up female and a child female."

Campaign for a Commercial-free Childhood, the organization Levin co-founded, named 2008's Dallas Cowboy Cheerleader Barbie its Worst Toy of the Year.

Barbie Excites Imagination



"Barbie introduced me to the concept of narrative as an ongoing process." — Yona McDonough, author of "The Barbie Chronicles"

Not everyone agrees with Dr. Levin, though. Yona McDonough, author of "The Barbie Chronicles" and an avowed fan of the Louboutin Barbies, credits the dolls with giving her an imaginative childhood and pushing her in the direction of becoming a writer.

"Barbie introduced me to the concept of narrative as an ongoing process," the novelist told TDmonthly. "She aroused my curiosity about womanhood and encouraged a kind of creative, engaged, active sort of play."

She added that the dolls provided her with positive stimulation as a youngster.

"The Barbies of my youth had beautifully designed and made clothing," she said. "It was such an inspiration to see and handle it."

Encouraging Consumption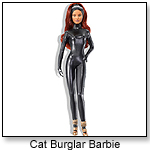 But does this "inspiration" lead to unreasonable expecations? As entertainment news outlet Jezebel.com notes, the custom-made skin tight suit and designer shoes on the Louboutin Cat Burglar Barbie would be worth $43,800 in real life, more than most girls — preschool or adult — will ever be able to afford.

"It's setting up little girls to always feel like they don't have the right things, that they need to find ways to get more," Levin said. "What they have and who they are isn't enough."

McDonough contends that little girls are savvier than that.

"I really believe girls understand the differences between dolls and women," McDonough said. "The former are by their very nature unreal and idealized."

Talking Parents

Levin urges parents to talk with each other. Oftentimes, Levin says, it takes only one parent giving one toy to one child to make all of the other children want it. If parents are conscious of what their kids are buying, it will spur marketers to be more conscious about how and what they are selling to children.

According to Robin Gerber, author of the book "Barbie and Ruth," Ruth Handler— the woman who helped transform the German Bild-Lilli doll from a gag toy for men into a play doll fit for little girls — would agree with Levin's assertions.

"[Handler) felt that it was up to mothers to shape their daughter's lives and sense of self," Gerber told TDmonthly. "Barbie was a vehicle for imagination."

Gerber is skeptical of some of this backlash.

"I think this is largely constructed by adults," she said, "I'm sure there are children who have some negative psychological impact, but that could be said of many beloved toys."

"The vast majority of people who called into the shows I was on, or came to talks when I was promoting the book thought their Barbie was wonderful and helped them to become who they were as an adult," Gerber continued. "They did exactly what Ruth envisioned: used the doll to imagine the adult lives they wanted to lead."

To see some of the Barbies discussed in the article, plus specialty fashion dolls for girls meant to counter the image that Barbie projects, please see below:
Girls can dress up any Groovy Girl doll in the Daydream Doctor outfit for imaginative pretend play. The outfit comes with a artist apron, paint pallet, brush and hip pink purse. Dolls are sold separately.
ToyDirectory Product ID#: 29701
(added 7/23/2010)
.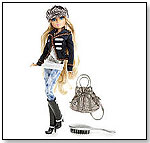 Moxie Teenz are articulated dolls with interchangeable wigs, realistic glass eyes and stylish fashions and accessories. Melrose has long blonde hair and wears a navy military jacket over a white top and acid-wash jeans. Her outfit is accessorized with a silver hat, belt and handbag, a ring, earrings and black boots.
ToyDirectory Product ID#: 29613
(added 7/20/2010)
.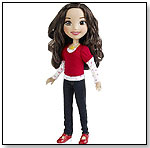 MSRP: $24.99
Age Range: 4 and up
Gender: Girls
Girls can style this 10" iCarly doll with funky fashions and hairstyles, and press Carly's necklace to hear her chat.
ToyDirectory Product ID#: 29555
(added 7/16/2010)
.
MSRP: $45.00
Age Range: 4 and up
Target Age Range: 4 to 6
SKU or Item #: R5721
Launch Date: February 2010
Gender: Girls
A companion doll for young riders, Camille Equestrienne is dressed in a riding outfit complete with cap, jacket and boots. She has long rooted hair for styling fun and can wear any 13" fashion from the Les Cheries collection. "Headquartered in the Loire Valley, the storybook region of Langeais, France, Corolle is a brand that embodies all the values of childhood. The extraordinary attention to detail in all their dolls and accessories reflect the company's reputation — established over three decades — for quality materials and classic design," Liza Grando, Account Executive, Moss-Tucker Associates, told TDmonthly. Launch date: February 2010.
ToyDirectory Product ID#: 27547
(added 3/15/2010)
.
MSRP: $50.00
Age Range: 3 and up
Launch Date: January 2010
Gender: Girls
Harper is a soft, classic doll who features a hip teal dress, orange poncho and tall tan boots. Lily Doll outfits are removable for fashion play. Launch date: 2010.
ToyDirectory Product ID#: 27875
(added 4/6/2010)
.
Age Range: 6 and up
Gender: Girls
Mixis™ Culturally Inspired Clothing draws on influences from China, Japan, India and Central and North American. Each outfit draws inspiration from traditional, historical and modern fashion trends. (Doll not included).
Awards: A TDmonthly Classics Award for being an all-time favorite toy.
ToyDirectory Product ID#: 25408
(added 9/23/2009)
.
SOURCES:
BeBarbie.net, http://www.bebarbie.net/2010/05/more-barbie-controversy-basic-model-no.html#links

Popcrunch.com, http://www.popcrunch.com/black-canary-barbie-sm-barbie-doll-controversy/

Jezebel.com, http://jezebel.com/5484988/well-its-supposed-to-inspire-girls-barbies-clothing-bill
Catalog Request Form


Advertisement: