Article Tools:








Specialty Standouts
Of course the mainstream, mass-market toys caught a lot of buzz at Toy Fair in New York. But what about the little guys? TDmonthly's toy experts saw a lot of promising items in the specialty market.

New glow-in-the-dark items from Innovation First Labs' Hexbugs line built on the success of their previously popular, if less illuminated, robot bugs. Corolle introduced a new character in their multi-cultural Les Cheries dolls, and puppet company Folkmanis introduced Folkmonsters, brightly colored, furry monster puppets that will render children more delighted than scared. Mysterious Creatures by Education Outdoors uses mythical beasts from different countries to teach kids about world cultures and geography, while the new Chalkboard Matryoshka from Matryoshka Madness! lets kids design their own versions of the traditional Russian nesting dolls. The real standout? The specialty toys all seemed to have one thing in common, which was their ability to inspire creative play and stimulate young, inquisitive minds.
Dropship Available?: (Log in to view)
Ships From: (Log in to view)
Terms: (Log in to view)
MSRP: $19.99
Age Range: 3 and up
Target Age Range: 3 to 5
Specialty: Yes (as of 2011)
Made in: China
SKU or Item #: 477-1945
Launch Date: January 2011
Gender: Boys And Girls
The Glow in the Dark HEXBUG Nano Starter Set is perfect for any first time HEXBUG Nano owner. Each Glow in the Dark HEXBUG Nano Starter Set is expandable. Kids can build onto their habitat sets using additional track pieces until they've constructed their own little micro robotic community.
ToyDirectory Product ID#: 31819
(added 3/4/2011)
.
Capucine is an Asian doll with all of the familiar elements of the Les Cheries Collection: long, lush hair, and contemporary fashion. Complete with a trendy outfit, Capucine especially appeals to children ages 4 and up. She makes an ideal playmate for sharing confidences, for hairstyling, and fashion play. Launch date: March 2011.
ToyDirectory Product ID#: 31892
(added 3/8/2011)
.
MSRP: $34.00
Age Range: 3 and up
Launch Date: February 2011
Gender: Boys And Girls
The FolkMonsters back story is that a meteorite fell from outer space into a pile of fabric in the designers' workroom one night. The resulting spores mutated the fabric, and FolkMonsters were born. Blueper likes to sleep on a hard, warm circuit board. He is super fuzzy blue with orange stripes. His favorite foods are oranges and blueberries; if he doesn't eat enough of these his beautiful fur colors start to fade. He likes to invent things. "FolkMonsters are delightful friends, not scary at all," says Elaine Kollias, marketing Director. "Their heartwarming faces and bright colors will endear all."
ToyDirectory Product ID#: 31503
(added 1/14/2011)
.
Mysterious Creatures the Game was created to engage player's curiosity in the mysteries of nature that exist across the world. The game takes each player on an adventure/race across the globe in search of their creature's evidence cards. The first player to collect all 3 evidence cards and make it back to their creature's country of origin wins. Along the way players will learn geography, country flags, and a multitude of info about creatures that may or may not exist. All the card art for each creature incorporates the flag of its native country. Other features include the set-backs for natural phenomena like the Bermuda Triangle.
Watch video from
Toy Fair 2011
ToyDirectory Product ID#: 31758
(added 2/22/2011)
.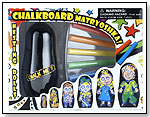 This set of nesting dolls can be decorated any way a child desires using the included chalk. Can be wiped of and re-decorated time and again.
ToyDirectory Product ID#: 31887
(added 3/8/2011)
.
Catalog Request Form

Writer's Bio:
Justina Huddleston graduated Magna Cum Laude from Emerson College with a BA in Writing, Literature, and Publishing in 2009. After graduating she was the on-site director of the Boston Children's Museum gift store for a year, selling educational, developmental, and creative activity toys that tied in with the museum's exhibits. Justina also interned at children's book publisher Candlewick Press before moving from Boston to Los Angeles, where she is now Assistant Managing Editor at
TDmonthly
.
Read more articles by this author