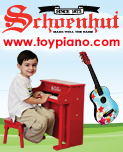 Article Tools:








Holiday Shopping List for Girls
Scroll Through Hi-Quality Toys, Broken Down by Age
As busy parents, you don't have time to research toys with the best play-value and quality—especially since most of them are not widely advertised! TDmonthly has compiled a series of alternative holiday shopping lists by age to take the guesswork out of finding unique, fun toys for that special girl in your life. Keep this page on your SmartPhone when you shop. Click on any item to learn more about it, or simply scroll to the end of the list—please be sure to double-check age recommendations:

No manufacturer paid to be included in this article. All products listed were designated by editorial staff without regard to the company's relationship with TOYDIRECTORY.com/TDmonthly Magazine.


Ages 2 to 4

Pony Pals Pony Bikes by PONY PALS RANCH

Calin Cheerful Raspberry by COROLLE DOLLS

Pink Check Huggums by ALEXANDER DOLL CO. INC.

Green Toys™ Pink Dump Truck by GREEN TOYS INC.


Ages 4 to 8

Toe-Tally Fancy Gift Set by PIGGY PAINT LLC

Calico Critters Baby Playground Tea Cup Ride by INTERNATIONAL PLAYTHINGS LLC

Groovy Girls Fleurabella by MANHATTAN TOY

Little Red Riding Hood by ALEXANDER DOLL CO. INC.

Daisy Collection by PIGGY WIGGIES

Squishable Polar Bear by SQUISHABLE.COM INC.

Lalaloopsy Silly Hair Doll - Jewel Sparkles by MGA ENTERTAINMENT

Sticky Mosaics ® Sweet Dreams by THE ORB FACTORY LIMITED

Shains - Popsicle Cuffs by SHAINSWARE

Snap Caps® Hair Bows by m3 girl designs LLC

Paddywhack Lane Playsets by PADDYWHACK LANE LLC

Make Your Own Lip Balm by CREATIVITY FOR KIDS


Ages 8 to 12

Suddy Ugly Doll by PRETTY UGLY LLC

Charm Candy by HIGH INTENCITY CORP

Iwako Unicorn Erasers by BC INDUSTRIES

Text Necklaces by NATURAL LIFE INC.

Friendship Bracelets by KLUTZ

ZOMBIEZOO Minis BOO by ZombieZoo

Breyer Misty and Stormy Set with Book by REEVES INTL. INC.


Find out more about each toy below:

.
.
.
Piggy Paint is a natural, eco-friendly nail polish designed for fancy girls. Its non-toxic, hypoallergenic formula makes it perfect for little (and big) piggies. Comes in an assortment of gift sets that are great for the Holidays and other special occasions. The Toe-Tally Fancy gift set is another addition to the Piggy Paint gift set line.
.
.
.
.
Soft, white, and squishy, this 15" spherical polar bear is made of all new polyester fiber.
.
.
.
.
.
.
.
.
.
.
.
ZOMBIEZOO is a family of fun loving animals including Boo the black cat, the natural born leader of the group, and Stich, a pig obsessed with hygiene. Along with their friends, Muck, the "party animal" monkey, Rob the poetic rabbit and Toxic the competitive red snake. These new Mini ZOMBIEZOO clip-on plush are 4" replicas of Boo, Muck, Rob, Stich & Toxic are made out of soft velboa fabric. With a red hook they are great to hook onto your keychain or backpack. Launch date: September 2011.
.
.
.
Catalog Request Form


Advertisement: