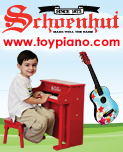 Article Tools:








You Coulda Been First — Toy Fair Debuts That Keep on Selling
Why You Should Go to New York ... and Watch Our Toy Fair Videos!
With additional reporting by Justina Huddleston

Not sure whether you should trek to Toy Fair 2012? Watch the following TDmonthly videos to see what types of great new toys you could be missing by nestling home in February. If you were at Toy Fair from 2006 to 2011, your store could have been the first to feature such award-winning and hot-selling products as Hexbugs, ZipBins, Zoobies and Wild Creations' Eco-Aquariums.

Absolutely can't make the show? Don't worry. TDmonthly's video crew will be at it again, combing the aisles of Toy Fair and bringing back videos of products that could make your toy store the #1 place to be in 2012. Just be sure to check back in February and March 2012 to see the best of Toy Fair from your computer.
(Videos below start in 2006 and end with 2011 products. When there's more than one video for a product, the Toy Fair video will be on a link at the end of the product's description.)
ZIP-IT! includes 24 ivory-like letter cubes packaged in a cloth pouch with unique self-scoring zippers, so everything you need is in the bag. No pencil, paper or board needed. Each player takes 12 cubes and races to form their own crossword grid using any side of the cubes. The first player to use all their own cubes calls "ZIP!" and scores a point by moving their own zip up the pouch. The first person to score 10 points shouts "ZIPIT!!!" and wins the game. One hand can be played in as little as than 20 seconds.The game was designed to be easily portable. Also includes complimentary WEORDS Dictionary, a list of weird words that can help win word games.
.
.
.
.
Ready, Set, Nano! Kids can race their HEXBUG Nano bugs by constructing their very own customizable Raceway Habitat Set. HEXBUG Nanos test their speed and take off out of the starting gates at a lightning pace in attempt to out-scurry their competition to the finish line, zooming through dangerous divides and tricky turns.
.
.
Phone Frenzy is a board game that uses everyone's mobile phone as the primary game component for calling, texting, and sending photos. Every turn, players are given a challenge or activity that can only be completed with the help of one or more of their phone contacts. A challenge might be a race to receive a correct response to "Finish this lyric by Journey: 'Just a small town girl'…" Players pick who they think are the right contacts from their phone and send them a text message with the question. The first player to receive the correct text message wins the round. Launch date: Summer 2011.
.
.
.
.
.
These miniature ice cream makers take three minutes to turn ingredients (sugar, milk cream, water, and anything else like to add like nuts, raisins, or candy) into an iced confection. There's no motor or batteries...the only energy required is a little vigorous shaking. Simply place ice cubes and salt into the lower part of the cup, and fill the top with sweetened juice, milk or cream. Fasten the lid and shake. The salt quickly melts the ice, which makes the aluminum plate super-cold, turning the liquid into ice cream, ice milk, or sorbet. Available in assorted animal characters (polar bear, cat, seal, dog, penguin)
.
The FolkMonsters back story is that a meteorite fell from outer space into a pile of fabric in the designers' workroom one night. The resulting spores mutated the fabric, and FolkMonsters were born. Blueper likes to sleep on a hard, warm circuit board. He is super fuzzy blue with orange stripes. His favorite foods are oranges and blueberries; if he doesn't eat enough of these his beautiful fur colors start to fade. He likes to invent things. "FolkMonsters are delightful friends, not scary at all," says Elaine Kollias, marketing Director. "Their heartwarming faces and bright colors will endear all."
.
The Automoblox M9 comfortably seats eight of our cool, blue people. The extra-long main passenger compartment and additional seating for four in the rear block give this vehicle the longest wheelbase in the line-up. Now your child can build a minivan like mom's that even dad will want to drive.
.
.
.
.
.
.
Snap Caps® are the original, interchangeable, magnetic bottle cap necklace. This collection of Snap Caps offer designs for the girl rock star, from images of zebra stripes to hot pink iPods.
.
.
.
.
Catalog Request Form


Advertisement: