Article Tools:








Watch Toy Videos of the Day (2/6/2012-2/10/2012)
We want you to see the toys we see, so you can determine if they're right for your store! Check this space every weekday to see brief video clips of new and specialty products.

In the spotlight today? Your sales will skyrocket when you carry plush like the YooHoo Blue by AURORA WORLD INC.
This 8" plush pet has a soft fabric body and big blue eyes to match his blue striped tail. When squeezed he makes a fun noise.
ToyDirectory Product ID#: 29067
(added 6/23/2010)
.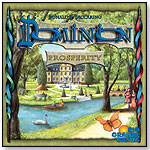 MSRP: $44.99
Age Range: 13 to 17
Specialty: Yes (as of 2012)
Gender: Boys And Girls
This expansion to Dominion adds 25 new Kingdom cards to Dominion, plus 2 new Basic cards that let players keep building up past Gold and Province. The central theme is wealth; there are treasures with abilities, cards that interact with treasures, and powerful expensive cards. For 2-4 players; takes about 30 minutes to play.
— As of 1/23/2012 this product had 4.9 out of 5 stars from 37 reviews on Amazon.com.
ToyDirectory Product ID#: 33524
(added 1/27/2012)
.
The Monster High student body just got scarier with the newest students joining the other ghouls in the howlways. Nefera de Nile, daughter of the Mummy, shares the sophisticated style of her younger sister Cleo de Nile. Her wrap skirt is accessorized with a snake necklace, jeweled earrings and a dramatic hairpiece. She carries two Egyptian-detailed bags and comes with pet Scarab Beetle, Azura. Nefera de Nile doll is fully articulated so she can be posed in many different ways and includes pet friend Azura, doll stand, brush, diary and accessory.
— As of 1/31/2012 this product had 4.5 out of 5 stars from 6 reviews on Amazon.com.
ToyDirectory Product ID#: 33533
(added 1/31/2012)
.
This redesigned version of Sleep Sheep has brighter hooves to create a warmer effect and to match Cloud B's Sleep Sheep Aroma Pillow. Sleep Sheep is equipped with four soothing sounds to help baby rest: mother's heartbeat, spring showers, ocean surf and whale songs. The 12" Sleep Sheep has a removable sound box and an automatic time-out function that can be set to 23 or 45 minutes. Launch date: November 2009.
ToyDirectory Product ID#: 26041
(added 11/10/2009)
.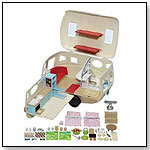 MSRP: $69.99
Age Range: 3 to 10
Specialty: Yes (as of 2012)
Gender: Boys And Girls
The lovable Calico Critters can now vacation in style and comfort with the Calico Critters Caravan Family Camper. Part of the greater Calico Critters series of toys, the Caravan Family Camper is a fun collectible that complements other Calico Critters locales and accessories. Includes a well-stocked large kitchen, a spacious bathroom, plenty of storage and room for 4 to sleep. Over 35 accessories including round table, plates, cups, utensils, pots, pan, sleeping bags, maps, "board games", iron, soap, towel & more. Caravan measures: 17" x 9 1/2" x 13 1/2" opened, 7 1/4" x 11 1/2" x 7 1/4" closed.
ToyDirectory Product ID#: 33526
(added 1/27/2012)
.
MSRP: $44.99
Age Range: 1 and up
Specialty: No
Gender: Girls
This is the first line of construction toys designed for preschool girls ages 1 and up. Features sparkly translucent blocks, princesses with sparkling tiaras, ponies, and more. This tub includes sparkly and regular blocks, two princesses, and a little pony. Launch date: Fall 2012.
ToyDirectory Product ID#: 33698
(added 2/15/2012)
.
Catalog Request Form