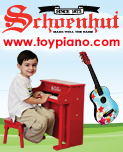 Article Tools:








Doll House & Toy Store Finds Far-Reaching Charities
Schoenhut, Safari, Hape and Magicforest Will Help Dozens of Kids
On Wednesday, April 25, 2012, at 2:00 pm, The front of The Doll House & Toy Store in Scottsdale, Arizona was piled high with boxes of incredible, high-quality specialty toys and children's instruments. That may not be unusual for a toy store, but the stacks of toys donated by Schoenhut Piano Company, Hape International, Safari Ltd., and Magicforest Ltd. were being given away to two local children's charities, Devereaux House and The Crisis Center, as part of TDmonthly's "2012: A Year of Charity" giveaway event. (Win a chance to give away toys at your store -- see below!)

To be sure the amazing toys were as impressive as possible, Sari and her staff built at least one of each color of the pianos from Schoenhut, which included a Piano Pal, Baby Grand and My First Piano. The representatives of the charities were astounded by the display.

"It really hit them," Sari told TDmonthly. "I don't think they expected it. They were absolutely thrilled."

Sari and her staff alerted her customers to the givewaways ahead of time by talking up the magnanimity of the donating companies, posting signs in the store, and sending out emails. She also hired a PR person to cover the event. In addition, the mall where Sari's store is located also send a rep to take photographs of the donations.

Sari realized she'd picked the best possible charities when she learned that each of them have far-reaching programs that extend beyond their local shelters.

"They have respite homes and foster homes and Devereaux has two schools," Sari continued.

The centers had play kitchens, too, where the play food and apron from Magicforest will really be appreciated.

Sari said the charities loved that there was a mixture of products that could be used for a number of children, over and over, such as the pianos and kitchen sets, and also toys that could be used as individual rewards.

"When a child has been really nice, they'll get a 'prize' from Safari or an apron or a truck," Sari said.

The Crisis Center is keeping a Schoenhut piano until next year, when they'll use it as a raffle to raise funds.
Catalog Request Form

Writer's Bio:
ALISON MAREK is a writer/artist/filmmaker whose work has been published by Fairchild Publications and DC Comics (Piranha Press), among others. Her short films have won awards in festivals around the world and have been broadcast on Showtime and other cable networks. Her new web series, "Mugg's Movers," was sponsored by FlatRate Moving Systems LLC and was selected for an NYU webseries showcase at
writerslabwest.org/webshowcase
. Alison is also the writer of the 2011 Emmy-nominated PSA "Tell Someone," for the Legal Aid Foundation of Los Angeles.
Read more articles by this author


Advertisement: