Article Tools:








ASTRA's Best Toys For Kids Nominees - Game Play 3-7 yrs
Take a closer look at ASTRA's Best Toys For Kids Nominees in the Game Play - 3-7yrs category.

Don't forget to check out the nominees in the other categories:









Grab your spatula and dig into this silly, burger-slidin' game. Race to fill your paper plates with burgers with each different topping or scoop up all the burgers with matching toppings—either way, the sliding burgers won't make it easy.
ToyDirectory Product ID#: 34351
(added 5/25/2012)
.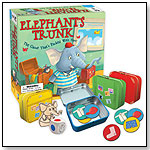 As kids help Emmet pack his trunks, they'll reinforce such valuable early learning skills as color identification, pattern recognition, and fine motor development. Also, with every roll of the die, they'll get a little taste of the anticipation they feel before leaving on vacation. Will players get a color and be able to pack their trunks, or will that pesky mouse mess up the plans? 2-4 players, playing time 15 minutes. Includes instructions in English and Spanish.
ToyDirectory Product ID#: 33504
(added 1/20/2012)
.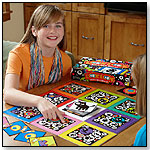 Crazy creatures abound in this fast-paced, mixed-up matching race. Draw a card to reveal the challenge. Will players need to find the identical creatures within two differently colored frames, or do quick math once they spot the numbers? Race against opponents to spot it or solve it. The winner keeps the card. The first to collect enough cards to spell "Look Look," takes the game. Game board is comprised of eight interchangeable frames, making it a new game every time it's played. Includes 68 challenge cards. 2 or more players.
ToyDirectory Product ID#: 34352
(added 5/25/2012)
.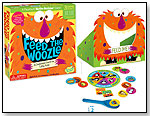 Wholesale Price: (Log in to view)
Minimum Order: (Log in to view)
Minimum Reorder: (Log in to view)
Dropship Available?: (Log in to view)
Ships From: (Log in to view)
Terms: (Log in to view)
MSRP: $19.99
Age Range: 3 to 6
Specialty: Yes (as of 2011)
Made in: China
SKU or Item #: GMK2
Gender: Boys And Girls
Feed the Woozle is a cooperative game that focuses on developmental skills of children ages 3-6 in an active, fun game. The object of the game is for all players together to "feed" the Woozle 12 silly snacks. Players roll a die and then place the indicated number of snacks on a spoon. Then they spin a spinner that directs them to walk to the Woozle performing a gross motor movement like Bunny Hop or Walk Backwards. It's not so easy to keep those snacks from sliding off the spoon while hopping across the room. If everyone together can feed the Woozle 12 snacks, then everyone wins. "This game is cooperative - either the game wins or the players win. It encourages group participation and habits of cooperation. The game is leveled - meaning it focuses on specific preschool developmental skills in a fun way that is age-appropriate and grows with the child," Donna Jaffe, president of Peaceable Kingdom Press, told TDmonthly. Launch date: January 2012.
ToyDirectory Product ID#: 33345
(added 12/15/2011)
.
See more products in our 2012 ASTRA Preview: 28 Toy Makers Share Products for Specialty

Prepare for ASTRA with our 11 Retailing Tips on Making the Most of Your Time at Trade Shows
Catalog Request Form