Article Tools:








Licensed Toys Bring Superheroes and Villains to Life
Licensed products are frequently a "bright spot" for the U.S. toy industry – in 2011, licensed toys and games represented 26% of total industry sales, up 2% over 2010. Character licenses based on blockbuster movies, television, celebrities, apps, videogames, and more can propel products to stratospheric success, creating memories that last a lifetime for millions of fans.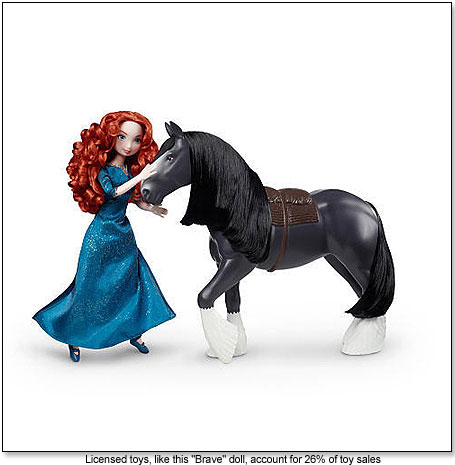 Throughout 2012, Hollywood blockbusters have been hitting theaters nationwide, spawning dozens of accompanying product lines that provide continuing action and entertainment for boys and girls long after they leave the theater.

"Kids love bringing movies to life through play, whether they are re-enacting storylines, imagining new plot developments, or emulating their favorite superheroes and villains," says Adrienne Appell, trend expert at the Toy Industry Association (TIA).

According to Appell, toys based on movies tend to be 'evergreen' products. "They appeal to young movie fans all year long – toys from the hottest movies of the year are sure to be on the wish lists of kids of all ages this holiday season."

The following are a few examples of the many toys and games with movie tie-ins from 2012 so far…and a sneak peak at what's coming this fall:
(Find out more about these toys at the end of the article!)

The Avengers (May 2012)
Toys and games related to The Avengers encourage action-packed play, allowing kids to truly get into the spirit of the fast-paced Marvel superheroes movie.


Bubble Blaster: The Avengers (Imperial Toy)
Gamma Strike Hulk (Hasbro)
21" Avengers Skateboard (Bravo Sports)
Marvel Mini Basketball Hoop Set (Franklin Sports)
The Avengers Mini Muggs Action Figure 2-pack (Hasbro)

Brave (June 2012)
Telling the story of 10th century Scottish archer, Merida, Disney Pixar's Brave has generated several toys that encourage fans to re-live their favorite plotlines and imagine themselves as the fearless heroine from the movie.


Princess Merida's Musical Bow and Arrow Set (Creative Designs)
Merida and Angus Doll Set (Mattel)
Merida's Wig Set (Creative Designs)
Gem Styling Merida Doll (Mattel)

The Amazing Spider-Man (July 2012)
A classic that has been engaging children for decades, Spider-Man made a comeback this summer, along with a slew of products that encourage little ones to be creative and role-play with friends.


The Amazing Spider-Man Mega Blaster Web Shooter with Glove Set (Hasbro)
The Amazing Spider-Man Digital Camcorder (Sakar International)
The Amazing Spider-Man Electronic Hero FX Mask (Hasbro)
The Amazing Spider-Man Remote Control Speed-Climbing Spider-Man Figure (Hasbro)

Ice Age: Continental Drift (July 2012)
From stuffed animals based on characters to games that the entire family can enjoy together, toys based on Ice Age: Continental Drift foster an emotional, tactile bond with the popular franchise.


Ice Age: Continental Drift Mini Plush Dolls (Just Play)
Ice Age: Continental Drift Fishing Game (Cardinal Industries)
Ice Age: Dawn of the Dinosaurs for Nintendo DS (Activision)

Diary of a Wimpy Kid: Dog Days (August 2012)
2012 marked the return of Diary of a Wimpy Kid – along with a new crop of toys! Products based on this book series and movie include educational puzzles and games that connect the consumer with protagonist Greg Heffley.


Diary of a Wimpy Kid Action Figure (Funko)
Diary of a Wimpy Kid: The Cheese Touch Game (Pressman)
Diary of a Wimpy Kid Scrabble (Fundex Games)

Coming Soon...
Finding Nemo 3D (September 2012); Hotel Transylvania (September 2012); Frankenweenie (October 2012); Wreck it Ralph (November 2012); Rise of the Guardians (November 2012); and The Hobbit: An Unexpected Journey (December 2012).

These are just a few of the many toys and games that tie-in to Hollywood blockbusters:


Each Licensed Bubble Blaster creates streams of continuous bubble action for hours. Includes Super Miracle Bubbles Premium Plus Solution in 100% recyclable bottle.
.
This detailed HULK figure puts kids right into the heart of the battle for the future of the planet. Hear the hero intimidate the enemy with smashing and roaring sounds. He won't back down in the starkest of circumstances. Squeeze his legs together for the HULK smash attack, and see his opponent suffer a crushing defeat.
.
This Soft Sport mini basketball set includes a Soft Sport basketball and a durable plastic backboard. Fits most doors.
.
Tiny THOR and LOKI figures are just the right size for little hands. THOR figure's hand accessory is not removable.
.
This Bow and Arrow set comes with 3 arrows, a fabric arrow quiver, and a glow-in-the-dark Will-o-the-Wisp charm to help young archers find their way.
.
With this charming gift set, girls can relive the special friendship between Merida and her most trusted confidante. Includes Merida doll and Angus figure.
.
Gem Styling Merida features iconic elements from the film in fashion play for girls. Dressed in her signature blue gown, Merida comes with a reversible cape that girls can flip over to reveal a sparkly print inspired by the movie. They also can decorate her outfit or her long red hair with gems, and they can play out Merida's love of archery with the included bow and arrow.
.
Kids can look just like Merida, the star of Disneys animated feature, BRAVE, with this wig. This iconic, curly red haired wig gives a finishing touch to any Merida costume or dress up set.
.
Kids can take their Spider-Man adventures to a whole new level with the Amazing Spider-Man Mega-Blaster Web Shooter Set. Kids will be able to fire web-fluid or water like their favorite web-crawling hero when they pull on the glove and attach the Mega-Blaster Web Shooter to it. Use the middle two figures to trigger the shooter.
.
Kids can capture still images and movies with this cool The Amazing Spider-Man Digital Camcorder from Marvel. The handheld video camera takes movies at an effective resolution of 640 x 480. Its built-in microphone captures sound, and the included Snap n' Share software lets kids create personalized videos with a soundtrack, edit titles and credits, and produce fun visual effects. Pictures are stored on an SD or MMC card (sold separately) up to 8GB, and USB and AV outputs transfer images and videos to a computer or television. Dimensions: 4"H x 2.5"L x 1.75"W. Weight: 6 oz.
.
Imagine Spider-Man adventures at a whole new level with this electronic Hero FX Mask. Kids'll feel just like their favorite web-crawling hero in this detailed superhero mask with incredible glowing eyes. The web-slinging sounds and 10 different Spider-Man phrases make kids look and sound like him.
.
Kids can send their Spidey up the wall after villains with this fast-climbing figure. When kids point the controller at him and press the buttons, he climbs up and down, left and right, even upside down. Put him on smooth, clean, dry surfaces such as windows and his mini-vacuums help him stick to the surface. Then guide the wall-crawling action with the controller.
.
The Ice Age 4 Continental Drift Mini Plush Dolls are fun plush characters. Kids can collect them all as they re-enact scenes from the film Ice Age 4, Continental Drift. The assortment includes Scrat, Manny, Diego, Shira and Captain Gutt.
.
Kids must catch the moving fish in this game, using their magnetic fishing poles.
.
For the first time ever in an Ice Age videogame, play as Manny, Sid, Diego, Scrat, and all new jungle adventurer Buck. Use their unique abilities to brave the new dangers they'll discover. Experience thrilling gameplay in the rich habitats of the third Ice Age movie, including the perilous new Dinosaur World, an immersive new jungle environment in the Ice Age world. Tap through more than a dozen levels and a collection of bonus mini-games including: pterodactyls riding, launch fruit grenades and use the touch screen to escape meat-eating plants. Experience a wide variety of thrills throughout single player combat, world navigation and puzzle solving challenges. Collect hidden acorns to unlock Scrat mini-game levels and animated sequences and Gems to buy unlockable content and unlock touch screen and microphone-enabled mini-games (featuring more playable characters).
.
This Diary Of A Wimpy Kid Action Figure stands approximately 6 inches tall. Diary of a Wimpy Kid is the Story of Greg Heffley's trying days as a middle school boy. Greg writes in his journal describing his pre-teen trials and triumphs.
.
America's favorite game is now offered in a Wimpy Kid version. Includes new Wimpy Kid rules and features an exclusive 50-word dictionary. Includes game board with Greg and the gang from the best-selling book series. Players 2-4.
.
Regularly check the "Movies" section of ToyInfo.org for information about upcoming movies and related product lines.
Catalog Request Form