Article Tools:








March Staff Picks
This month, TDmonthly Magazine decided to take a more in-depth look at the toys we feature in our Staff Picks, so that we can present you with more information about the toys that we think really stand out from the rest of the herd - and why. Take a look at the toys we chose, and see full product descriptions, including information like Age Range and MSRP, below.


Thunder Dragon with Drake Set by SAFARI LTD.®


—

Safari's hand-painted figurines are durable, detailed and fun. This vibrant new Thunder Dragon with Drake Set features a shimmery red dragon and his rider. The figure is eye-catching and sure to inspire kids' imaginations, encouraging creative pretend play.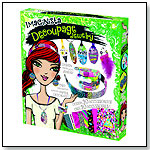 Imaginista™ Decoupage Jewelry by THE ORB FACTORY LIMITED


—

Tween girls are often interested in fashion and accessories, and the new Imaginista line from The Orb Factory encourages them to get creative with their style. Instead of just buying jewelry at the store, this kit teaches kids crafting skill so they can design their own, and encourages self-expression and creativity.



Duct Tape Messenger Bag™ by ALEX-PANLINE USA INC.


—

Duct Tape kits from Alex have been flying off of retailers' shelves in the past year, and this messenger bag will appeal to tweens and teens alike. This no-mess crafting kit fosters self-expression, and when the craft is completed kids have a product they can really use.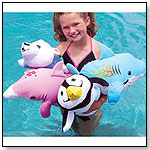 Pooligans™ by SWIMWAYS CORP


—

This intriguing new toy is a waterproof plush pal that kids can take in the water, acting as an aqueous security blanket for first-time and beginning swimmers. These toys also foster pretend-play in kids who are already strong swimmers.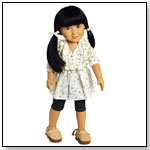 18" Adora Friends™ by Adora


—

These high-quality 18" dolls are an affordable choice for girls looking for a fun fashion doll that is durable enough to really play with. The dolls come in several different ethnicities, each with their own unique facial sculpt. Playing with dolls encourages pretend play and social development, fosters nurturing skills, and encourages kids to express themselves. Cute outfits for these dolls are also available, sold separately, and outfits from other popular 18" dolls will fit them as well.

Learn more about our Staff Picks:
Join Drake and his Thunder Dragon on electrifying adventures as they soar through the dark clouds of stormy nights. This hand painted replica measures 8" L x 6.25" W x 3.75" H (20.5 x 15.75 x 9.75 cm) and is suitable for ages 4 and up. All Safari Ltd® products are 100% guaranteed and lead free to ensure children's safety. Visit www.safariltd.com to explore educational information in five languages and to view and purchase Safari Ltd® 2013 introductions and all other products. Launch date: 2013.


ToyDirectory Product ID#: 35757
(added 12/11/2012)
.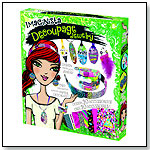 MSRP: $19.99
Age Range: 8 and up
Specialty: Yes (as of 2013)
Gender: Girls
Cut, rip, and Decoupage dozens of amazing accessories. Use patterned paper to create headbands, pendants, earrings, and more. Decorate with feathers, glitter, stickers, and over 13 yards of ribbon. Mix and match patterns for a completely unique look. The instruction booklet provides inspiration and step-by-step instructions to take you from beginner to advanced in no time.


ToyDirectory Product ID#: 36042
(added 1/31/2013)
.

MSRP: $27.50
Age Range: 7 and up
Specialty: Yes (as of 2013)
Gender: Girls
Make the coolest bag with metallic colored duct tape! Rip and wrap the duct tape to cover the presewn bag (the cardboard insert makes it easy). Then add charms to jazz it up! Large enough to fit books and school supplies. 8 rolls of tape, pre sewn pouch with strap, cardboard insert, stencil, non-stick paper and easy to follow instructions are included.


ToyDirectory Product ID#: 36054
(added 2/8/2013)
.
Children will build confidence in the water with their new swimming buddy. These sweet, huggable plush toys have buoyant flotation, and quick-dry outer fabric and stuffing, making them the perfect companion for kids in and out of the water. Take Pooligans in the water for floating fun and out of the water for poolside comfort. Created with anti-microbial materials for long-lasting enjoyment. Four characters available: Dolphin, Shark, Penguin, and Polar Bear. Each character sold separately. Launch date: February 2013.
ToyDirectory Product ID#: 36075
(added 2/18/2013)
.
MSRP: $59.95
Age Range: 6 and up
Specialty: Yes (as of 2013)
Gender: Boys And Girls
Share the joy of friendship with an Adora Doll Friend, each with her own unique style just like you.
Unlock the magic of a true-blue friend with your very own Adora friendship bracelet! They are fun to wear and have a special meaning…handmade by one friend and given to another as a gift. The color of the friendship bracelet also has a special meaning among friends! Launch date: February 2013.


ToyDirectory Product ID#: 36059
(added 2/12/2013)
.
Catalog Request Form


Advertisement: