TV Games
JAKKS Pacific introduces additions to its award-winning TV Games line based on top brands and licenses. New releases include: Ms. Pac-Man TV Games, featuring miltiple classic games including Ms. Pac-Man, Galaga, Pole Position, Xevious and Mappy; the Atari Paddle TV Games, which look like the retro Atari paddle from the 80s, features old school favorites such as Breakout!, Canyon Bomber, Casino, Night Driver and Pong; Disney TV Games, for the littlest gamers, feature five all-new games such as Aladdin & The Gems of Agrabah, Stitch´s Search for Lilo, Timon to the Rescue, Simba & The Tree of Trials and Donald´s Disney Golf Tournaments; and SpongeBob SquarePants TV Games, based on the animated series, contains five unique SpongeBob games including Bubble Pop, The Super Chum Bucket, Invasion of the Hooks, and Sandy´s Surf Adventure.
Peace of Mind for Parents
Temtex Industries Inc. is releasing the Portable Power Teen, including its signature product, ChatPower - a credit card-sized, universal cell phone battery back-up pack, with an unprecedented 7-year standing shelf life. Temtex Interall North America (a division of Temtex), will also add a new dimension with its new Portable Power Teen line of CHAT Power TM, FLAT Light TM and SAFE Light. All three products utilize new patented power source technology to vastly improve features and benefits of popular electronics, including flash lights, safety flashers and personal alarms.
The Triumphant Return of Ms. Pac Man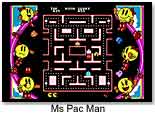 JAKKS Pacific, Inc. has entered a three-year licensing agreement with Namco Hometek Inc. to develop Ms. Pac-Man® and other Namco arcade classic video games for a Ms. Pac-Man TV Games (under $30.00) version of JAKKS' award-winning TV Games line, a plug and play gaming system that contains multiple classic games in one single controller. Ms. Pac-Man TV Games will feature the classic games Ms. Pac-Man, Galaga™, Pole Position™, Xevious™, and Mappy™. All that is needed are batteries and a TV; simply plug TV Games into the A/V jacks of any standard television set, turn on and play.
High-Tech Care Bears
VTech Electronics, creators of the electronic learning category, have developed the first of its kind new TV Learning System - V.Smile. The exciting technology turns game time into brain time by combining a video game platform and educational content in a system that connects directly to the television. Children ages 3-to-7 years old play a variety of entertaining educational games on cartridges that help teach essential curricula such as language, math and science through engaging gameplay. Children navigate each game by using a hand-held joystick with oversized buttons and a feature that allows the joystick to be switched for both right-handed and left-handed players. The Care Bears cartridge will feature popular Care Bear characters to help guide children through various age-appropriate skill levels and developmental activities.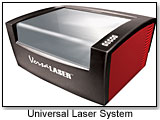 Universal Laser Systems Introduces VersaLaser
A new line of computer-controlled, desktop laser engraver systems, the VersaLaser by Universal Laser Systems (ToyDirectory) transforms images on a computer screen into real items made out of a variety of materials, such as wood, plastic, ceramic and leather. Using a high power laser and a USB connection to a computer, it can cut through, scribe into, engrave text, graphics and photographs or permanently mark materials. VersaLaser is a compact, low-cost laser system that is as easy to use as a printer.