This is the first of three articles in the series, "Toys to Talk About." To read parts II and III, click here: (PartII) (PartIII)
The Marshmallow Fun Co.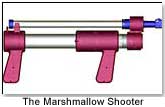 This gun shoots edible bullets. The Marshmallow Shooter from The Marshmallow Fun Co. (ToyDirectory) uses marshmallows as ammo, with magazines for fast reloading and a laser light to assist in target practice. The shooter also comes with 50 rounds of reusable foam pellets which can be used instead of marshmallows. The pump-action rapid-fire gun toy can hit a target of up to 30 feet with mini marshmallows.
Next Step Family of Products

Next Step Family of Products (ToyDirectory) has a Sports Hoop with a net that adjusts for indoor baseball, soccer and even football, in addition to basketball. The mounting rack attaches vertically or horizontally to surfaces to become a soccer goal, a strike zone, or football receiver. The Sports Hoop is suitable for indoor as well as outdoor play and no tools are needed for setup.
Superflight, Inc.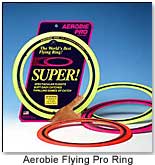 The Aerobie Pro flying ring by Superflight, Inc. (ToyDirectory) assisted in the creation of a new Guinness World Record at Fort Funston last July. Erin Hemmings of Mendocino beat out six of the world's best flying disc throwers, reaching a distance of 1,333 feet. The record previously held was 1,257, making Hemmings and the Aerobie Pro flying ring the first to reach a throwing distance of over a quarter mile.
Phun from Phoenix, Inc.
From Phun from Phoenix, Inc. (ToyDirectory) are two bop bags aimed at helping to relieve stress, constructively. The Ref Bob Bag is designed to take the brunt of irate fans during football or basketball season. The Therapeutic Bop Bag is also available as a healthy, physical outlet for aggressions. Both bob bags are 40", with sand weighted bases but the Therapeutic Bop Bag has a blank canvas and comes with five wet erase colored markers so stressed out individuals can draw representational images, faces or words and then smash their worries away.
3MG, INC.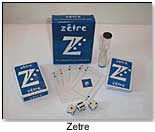 Zetre is the new mathematical game from 3MG, Inc. The object of this challenging card game is to be the first player to get rid of all the cards in your hand in 30 second rounds while simultaneously forming mathematical combinations of the dice values that equal the value of the cards in your hand. Cards are placed face down if they are to be discarded. At the end of each round, each player must explain why and what mathematical combination they used to get rid of that card. If the player cannot successfully explain the reason for their action, they must take a penalty card from the Draw Pile. The first player to discard all of their cards wins!
4 Kids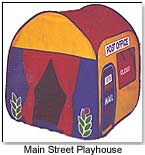 The Main Street Playhouse by 4 Kids includes a grocery store, puppet theatre, and post office. It is also convenient for fold down and storage measuring 42" x 39" x 38"/106cm X 99cm x 96cm. The Main Street Playhouse offers the perfect introduction to unlimited, imaginative play for kids seeking creativity!
A CHILD'S GIFT OF LULLABYES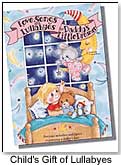 A Child's Gift of Lullabyes presents "Love Songs & Lullabyes for Daddy's Little Dreamer" ® This product includes a keepsake lyric booklet and song titles including, "Love Songs & Lullabyes," "Even More" and "You Came From Love." "Love Songs & Lullabyes for Daddy's Little Dreamer"® gives fathers the opportunity to be a part of a cherished tradition that is usually thought of only as a special moment for a mother and child.
A Sharp, LLC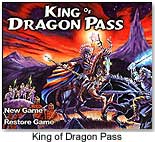 King of Dragon Pass by A Sharp, LLC is a computer game that incorporates stories and resource management into a saga of conflict, magic and community. King of Dragon Pass, set in Glorantha, has won three Best of Glorantha 2000 awards in "Best of the Best," "Best Visual Art," and "Best Playing Aid."
A Wish Come True
A Wish Come True offers colorful, authentic costumes and accessories for boys and girls. One such costume is the mermaid costume, which is a one piece costume featuring a foil dot turquoise lycra front bodice. The "tail" of the mermaid is a foil print with an organza ruffle. Sizes available are XSC, SC and MC.
Dell Books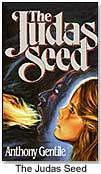 "The Judas Seed," by Anthony Gentile, published by Dell, is a story of two men, a German doctor and a New York artist. The story of these two marked men, chosen to fulfill the destiny of the Judas Seed, unfolds as they and their victims are trapped future of betrayal and evil.
Accord Publishing Ltd.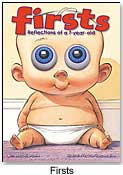 Accord Publishing presents "Firsts: Reflections of a 7 year old" by Arlan Cohn and illustrated by Dan Vascancellos. This hilarious story really "pops out" to the reader through Eyeball Animation ® and through its humor. This book is really for all ages as both parents and children can reminisce and laugh about a child's firsts.
Accoutrements
Parasite Pals by Accoutrements offers new Parasite Pals pencil toppers which are about 1" tall and have a hole at the bottom so as to fit on top of pencils and other things. These vinyl pencil toppers come in all the different Parasite Pals: Holly Hostess, Dig Dig Head Louse, Tickles Tapeworm, Blinky Eyelash Mite and Zzeezz Bed Bug.
Action Figure Paradise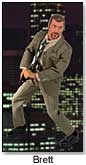 Action Figure Paradise presents the NYC Detective Series. "Brett," from the "Robbery Division," is dressed like a real detective in a light olive suit, flowered brown tie with tie clip, tan shirt, black shoes and socks. He carries a tan shoulder holster with a die cast .38 caliber revolver with a swing out cylinder. He realistically sports hand cuffs, case and black heavy duty service belt, radio pager and authentic detective shield. It's the details that make this action figure really worth getting. "Brett" is ready to fight crime!
APII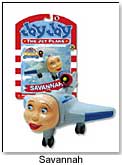 APII is featuring Jay Jay The Jet Plane TM Savannah TM . Savannah is a wooden character who speaks in a sweet Southern accent. Her landing gear actually works and her wheels spin! This lovable member of Tarrytown is pleased to fly you to any destination. Add Savannh as part of your collection of Tarrytowners!
Action Publishing

The "Kuekumber Kids Meet the Monster" of Manners, by Scott E. Sutton, published by Action Publishing (ToyDirectory), is a fun and entertaining way to teach manners to kids. The delightful Kuekumber Kids have done it again! This time, it's Katie Kuekumber's birthday and bad manners and cake are flying everywhere until a well-mannered "monster" arrives to save the party with a lesson in good manners, respect and getting along. Including the 21 manners parents wish their kids would learn, this book has had a rave response! Fred Eichelman, Ed. D., Teacher of the Year says, " Sutton has given parents and teachers something truly interesting to work with. The Monster Of Manners passes all tests."
This is the first of three articles in the series, "Toys to Talk About." To read parts II and III, click here: (PartII) (PartIII)