This is the third of three articles in the series, "Toys to Talk About." To read parts I and II, click here: (PartI) (PartII)
Art Chemical Products Inc.
Klean Klay from Art Chemical Products Inc. is easy to work with and handle. Klean Klay is used for both arts and crafts and also for work. It has been ideal for cultured marble products, RTV Silicone Rubber Molding, Figer Glass Molding, Metal Casting, Cement Casting, Claymations and/or Special Effects for Stage or Film, Taxidermy, Product Development Modeling, Architectural Modeling, School Arts and Crafts and even Forensic Models. Klean Klay comes in four levels of firmness: Regular and firm, extra firm and soft. Colors include natural skin tones, green, orange, red, blue, terra-cotta, brown, yellow, natural, cream, gray, gray-green and white.
Art Skills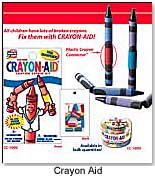 Now broken crayons have another chance. The Crayon Aid Repair Kit (ages 3+) by Art Skills enables children to simply collect their broken bits of crayon and stick them into the various crayon connectors. The convenient connectors come in different colors and the kit also comes with a crayon sharpener.
Artsy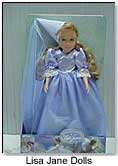 Artsy has created a line of Lisa Jane Dolls, a series of replicas of the works of the famous child photographer. Lisa Jane is known for her ability to combine the real and the magical through her work and these dolls are a stunning reflection of this. There are two series of these dolls and each is unique with regard to outfit, hair and eye color, and name.
ATCO Pacific Company LTD
The Hand Tool Playset (ages 3+) by ATCO Pacific Company LTD provides all of the basic tools for the child craftsman. The plastic tools include a wrench, saw, hammer, screwdriver, nuts, bolts, etc. Each piece is attractive and colorful.
Atlantic City Games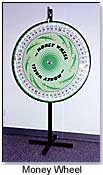 Try your luck! Atlantic City Games has designed an attractive Money Wheel. Similar to the concept of the famous game, "Wheel of Fortune," this large wheel contains images of dollar bills.
Atlas Model Railroad Company LTD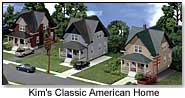 Kim´s Classic American Home is the third release in the Lovely Ladies Home Series™ from Atlas Model Railroad Company LTD. It will be available as a kit with one color scheme and a pre-assembled model with three different color combinations. The kit is modeled after a popular catalog home of the 1920s. The HO scale structure is made of styrene plastic and molded in attractive colors so no paint is needed.
Atlas Pencils
Atlas Pencils is the creator of an enormous line of attractive, high quality pencils. There is a pencil for practically every occasion, even holidays. Of special note are the educational pencils, which have vivid and colorful text covering topics such as History, Geography, Math, Science and the Arts.
Austin Abott INC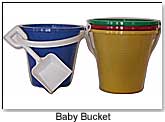 With summer just around the corner, young beach goers will be pleased with the line of Baby Buckets by Austin Abott INC. The attractive plastic sand buckets come in a variety of vivid colors, such as blue, red, yellow, and green. The buckets include a plastic shovel.
Avalanche
The Stickers and Scribbles Activity Calendar for 2005 (ages 4-8) by Avalanche offers kids an entertaining and creative way to color, and use stickers to create a working calendar. The calendar is 12" by 12 and includes more than 300 stickers, which can be used to mark birthdays, holidays, and other special events.
Aztec Imports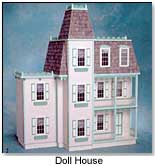 Aztec Imports has created a line of extraordinary doll houses. Some of the noteworthy features include thick, high quality construction and trim, movable room dividers, raised panel shutters and door, pre-cut expertly molded railings and porch posts, flower boxes and detailed staircases. The houses come with a choice of a "front opening" or "open back."
B.C. Bones, INC.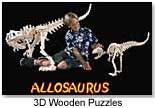 B.C. Bones, INC. has got a tremendous assortment of 3D wooden puzzles for all ages. The large Dinosaur Premium Line offers 5 sizes, one of which is 15 feet long. The Junior Line, 3-D puzzle-construction-craft kits are smaller and lower priced and include dinosaurs, insects, wildlife and sealife puzzles. There are also puzzles of the Eiffel Tower , Golden Gate Bridge , London Tower Bridge , and Empire State Building .
Baby Jumeira

The Alpha Ring by Baby Jumeira is a delightful addition to any baby's toy collection. The colorful rings can be used in several different ways, such as for play or to hook on cribs for decoration. There is even a detachable flower-shaped stand which prevents milk or juice from dripping.
Pass Football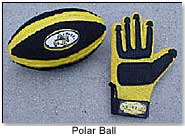 From Pass Football comes a new league and game using the Polar Ball. The Polar Ball is a patented Velcro glove and Velcro football taking "catch" to a new level. Velcro gloves and footballs come in all sizes and are being implemented into after school and P.E. programs for a "fast paced non tackle, no contact sport." It's named the polar ball because the ball and glove stick like dry ice and can also be used as a football training device.
Throwing a Game of Golf
When preparing for the Disc Golf season, Gotta Go Gotta Throw should be on the top of the list. The company is the largest wholesaler of flying discs. They offer among the most competitive prices and carry all brands and models of Disc Golf, Ultimate and Freestyle discs. They also have a large selection of catch toys.
Write On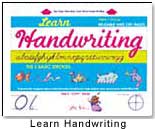 Learning how to write has never been so fun! The Learn Handwriting book ($13.95) by SafetyTots is a reusable booklet that simplifies the learning process of cursive writing by inspiring kids to use strokes in the form of animal shapes. The appealing and colorful book teaches such concepts as letter connections, stroke sequence and proper spacing. Included in the book are games in which children must hidden letters, as well as matching games.
This is the third of three articles in the series, "Toys to Talk About." To read parts I and II, click here: (PartI) (PartII)