Badger Basket (ToyDirectory)
Jessica, part of the Gotz Precious Day Collection, is 18? tall with long, silky blonde hair tat can be brushed, braided and styled. Her articulated arms and legs are vinyl and she is also poseable. Jessica wears a cute pink and white dress, vest, underpants and ?patent leather? shoes. She also carries a pink purse. She is a washable doll that can be played with again and again, Jessica is a perfect gift for any girl.
Betty Lukens Inc.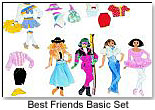 Betty Lukens presents a felt toy line for best friends called the Best Friends Basic Set . Children love to play with these beautiful dolls and dress them in the stylish clothes. The basic set includes four dolls from different ethnic groups. This set is completely interchangeable and all the dolls can wear anything in the set.
Beverly Stoehr Originals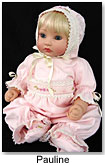 Pauline is a beautiful blonde-haired, blue-eyed doll. She is 20? and there are only 20 of her available in the entire world! Created by an American designer, her matching pink bonnet and booties are detailed with little flowers sewn on with crystal beads. ($210)
Deco Trunk

Affordable trunks made by Deco Trunks are made of sturdy wood frames and are covered in heavy gauge and deeply embossed vinyl in your choice of either pink or white. The brass-plated hardware drawbolt-style latches come with padlock hooks for security. The DC-1306 Doll Trunk fits all 11 ½? fashion dolls, including Barbie™. Trunks by Deco Trunks are a must for any doll collector! ($29.95)
Dolls by Jerri
Victorian Raggedys-Anni & Andi are an adorable doll twosome. These collectable and playable dolls have burgundy hair. Andi includes a matching bow and check shirt with black pants while Anni wears a burgundy dress. These 21? tall dolls have cute heart shaped pursed lips that add to their appeal. Great for all ages! ($220 each)
Dura-craft, Inc.
The NW 185 Newport Cape House is a 2 story, 5 room authentic cape colonial that stays true to that architectural era. It features an unmistakably American decorative rock front wall and triple, front-facing gables. Elegance and grace is added through the twin, silk-screened windows with arched muntins. Quality details include: shakes, silk-screened windows and stonework. This gorgeous dollhouse can also function as a great play house.