Big Baby Inc.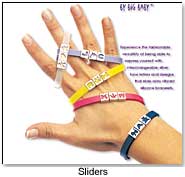 The Sliders bracelets are all the rage right now! These sassy and stylish new line of bracelets come in a variety of hot colors with interchangeable silver tone letters and designs.
Donna Willits and Co.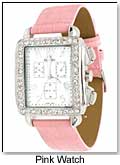 This fabulous Hot Pink Leather and Stainless Watch by Cordini is all the rage right now. It has 44 hand set cz's surrounding a stylish Mother of Pearl face. Inside the face are three decorative chronographs and beautiful hour and minute hands. The watch face measures 1 38" (not including buttons) and is also available in Light Blue. This Cordini watch is an absolute must have accessory for every stylish girl! ($49.95)
Enigmatic Technology
This flashing hand-painted Parrot Necklace is a great accessory by day and even better at night! This necklace is quickly becoming a collector's item as it features three unique kinds of parrots that are each lit by a separate light displaying yellow, green or red. The Parrot Necklace is a must for parties and parrot head fans. ($13.95)
Fiskars Inc.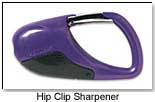 The Hip Clip ™ Sharpener is the coolest pencil sharpener around! It easily clips to bags, belts and binders. Store the shavings inside for easy disposal later. These Hip Clip ™ Sharpeners also come in a variety of cool colors. ($3.29)
Fun World/Easter Unlimited
The classic mask from the major motion picture is now on a tie! Look scary and stylish at the same time! This novelty tie is made from PVC and has an elastic collar. Dads love them!
Ganz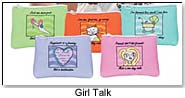 Girl Talk is the theme of these little zippered pretty purses whose functionality extend to holding credit cards, keys, cash and a lipstick. Friends, shopping, pets and life are all captured in quirky captions and designs. They make great gifts for girlfriends to give to one another!
Garland
Girl
For an authentic aloha look, people can adorn themselves with the beautiful, soft to touch, high quality Frangipani Flower Sets. These are handmade, handstrung and authentic looking. The "fresh picked" petals make a very aloha presentation which come in Orange and Cream, Hot Pink and White and Yellow and White. ($18.95)
Garven Inc.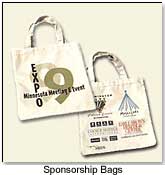 Sponsorship bags from Garven Inc. are perfect for trade show promoters, association event planners and basically anyone who wants to minimize the cost of providing a bag to event attendees. Garven even assists event managers in finding sponsors to participate in paying for a promotional bag. The in-house art department at Garven is also able to creatively assemble an assortment of logos and produce a completed product that is top promotional quality.
Tireflys ®
The Ultra Brite™ Keychain is definitely a necessary safety accessory for any person! This keychain has an attached LED light that is extremely bright. The light is motion-activated, so simply shake the keychain to activate the light which comes in UV green, red, white, blue strobe and brilliant white.