Merrymakers Inc. (ToyDirectory)

Make the naughty monkeys from Eileen Christelow's best-selling book series come to life with the Five Little Monkeys Finger Puppet Playset by Merrymakers Inc. Put these cute and soft finger puppets on each finger to enliven a story or to entertain your child with! Pave way for hours of laughter and smiles!
MT & B Corporation
Teach your children about careers in the community with Community Helpers, puppets that represent different helping occupations, by MT & B Corporation. Jobs include doctors, chefs, postal service workers, and teachers. Each puppet is multicultural, supporting the idea that every ethnicity can be successful in any profession of their choosing. Encourage your child while promoting him to look beyond stereotypes. $12.95.
Puppet Partners Inc.
Engage children in how to deal with others with the Good Sport Set by Puppet Partners Inc (ToyDirectory). Each puppet has workable mouths, so you can personalize each character with an entertaining voice and read the set scripts to teach children about how to handle tough situations. The Good Sport Set can be used to encourage following rules and how to be a good friend!
Sunny & Co. Toys, Inc.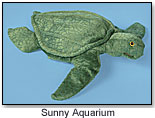 Swim out to see the latest hand puppet additions to the Sunny Aquarium by Sunny & Co. Toys, Inc (ToyDirectory). New animals include a fiery red lobster, a mellow leatherhead turtle, a dolphin fish, a blue marlin, and more! Each can be used to educate about sea animals or during imaginative play about the world under the sea!
Manhattan Toy
Celebrate another happy birthday with the aid of the Birthday Belles by Manhattan Toy (ToyDirectory). This finger puppet set comes with three female puppets all dressed up in colorful party dresses, topped with birthday hats. Have them accompany you while you sing Happy Birthday to your child! And after the candles are blown out, you can still use them during playtime! Ages 3 and up.