Top That! Publishing PLC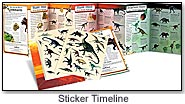 The new exciting series, Sticker Timeline by Top That! Publishing PLC , educate children about dinosaurs, moving machines, and explorers and their discoveries. On one side, there is a colorfully illustrated timeline of events, and on the back , there is more educational information on the topic . With stickers and great graphics, everyone will begging to learn more! Ages 7 and up. $5.99.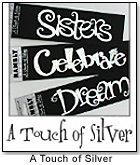 Hambly Studios, Inc.
Looking to jazz up your scrapbook pages? With A Touch of Silver & Jazzy Gems by Hambly Studios, Inc., (Toyshow)your scrapbook will be glammed up and stand out from other boring scrapbooks. Fill yours with eye-catching silver titles, such as "Dream" and "Celebrate." Add in the colorful, 3D Jazzy Gems stickers and you will finish with a touch of jazz!