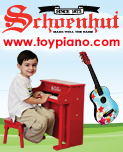 Articles by Michaele Birney Arneson




Parents Today: Gen X Grows Up (6/1/2005)
Generation X has taken the lead as the most common age group for parents in the United States, according to a still current study. Their numbers are growing, and the toy industry is eagerly taking notes on their buying preferences and habits.

Parents Today Part II: Just Wanna Have Fun (6/1/2005)
Generation X members are entering the parenting arena in increasing numbers. These young parents, ranging in age from 25 to 40, are more concerned about their overall quality of life than playing super-parent. They want fun, and smart retailers are listening.



Advertisement: