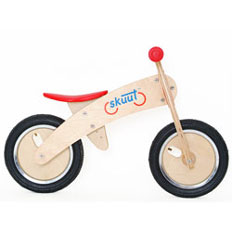 The Skuut Wooden Balance Bike

MSRP:
$99.99
Gender:
Boys And Girls
Age:
2 to 5
As an attractive wooden bike without pedals for young children, it is amazingly intuitive. Sitting on the Skuut, kids first walk the bike forward. As they go faster they stride with feet off the ground for longer and longer periods of time, ultimately being able to pull both feet off the ground and coast. At first they tilt to one side or the other and their feet catch them like training wheels or a tripod would. Very quickly balance becomes second nature and they can coast for yards with their feet off the ground. Braking is done Fred Flintstone style: just put your feet down and stop.
We guarantee all Skuuts to be free of manufacturing defects for up to one year.
(

Watch Video)
AD
---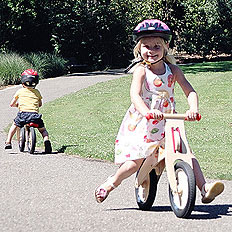 Skuut

Our children were able to walk/ride the first time they sat down. They were able to coast with their feet up after a week or two. Learning curves are different for different children.
The Skuut comes fully assembled except for the handlebars and front wheel, which are easily attached. Instructions are provided. All you need is a screwdriver.
The adjustable seat ranges from just over 11 inches to 16.5 inches high, fitting most 2-5 year olds. The seat is easily adjustable so children of all sizes can ride the Skuut.
The bike weighs about 10 lbs, and is well distributed, so it is easy to carry when your toddler tires out. The tires are pneumatic rubber. They can tolerate up to 40PSI, but we suggest 20-25 PSI for best shock absorption.