AD: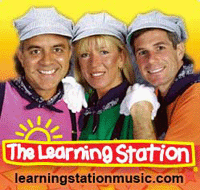 THE LEARNING STATION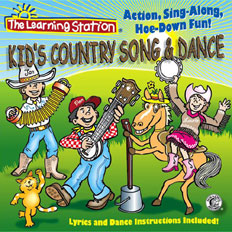 Kid's Country Song & Dance

MSRP:
$15.00
Gender:
Boys And Girls
Age:
3 to 8
New for 2009!
Action, Sing-Along, Hoe-Down Fun!
Put on your western hats and boots for this toe-tappin', knee-slappin', dancin', sing-a-along collection of songs, perfect for any shindig or jamboree. A delightful mix of original and traditional songs that overflow with country charm, whimsical humor and hootenanny, merry-time fun! Kick up your country heels with lively dances including,
Scootin' Dance Boogie, Knees Up Mother Brown
and
Cadence Square Dance
. Rejoice in unforgettable, heartwarming renditions of
You Are My Sunshine
and
Happy Trails to You
. Explore our beautiful nation with a song that rhymes all 50 states, patriotic favorites and cherished classics like,
Froggy Went a Courtin', My Aunt Came Back
and
I Love My Rooster
. A country assortment of 18 tunes that is certain to become a treasured favorite.
2009 Multi Award-Winner!iParenting Media Excellent Products Award
Dr. Toy's Best Vacation Children's Products
Creative Child Magazine's Seal of Excellence
Tillywig Toy Award, Sterling FUN
Brain Boogie Boosters

MSRP:
$15.00
Gender:
Boys And Girls
Age:
3 to 8
Brain Boogie Boosters creates a whole new realm in children's educational music - 19 fun, interactive movement songs that actually BOOST learning.
Dr. Becky Bailey and The Learning Station unite to create interactive, fun, brain-boosting movement songs and activities that foster optimal brain integration. This collection of 19 engaging tunes includes stop and go activities that improve attention spans, breathing and stretching songs to disengage the stress response, and connecting songs that enhance impulse control skills. Take a musical break, cross your midline, touch your heart, inspire your soul, integrate your brain and boost learning with this incredible CD.
Includes 26 page booklet with lyrics, movements & BRAIN BOOSTING ACTIVITES.
Awards:
2008 Directors' Choice2008 Creative Child Magazine CD of the Year
2008 Dr. Toy 100 Best Children's Products
2008 Dr. Toy 10 Best Audio-Video Products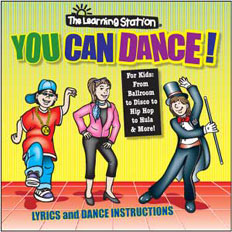 You Can Dance!

MSRP:

$15.00

Gender:

Boys And Girls

Age:

3 to 8

Dance like the STARS with this NEW CD featuring 19 of the coolest, most popular dances!

Children love to dance -- You Can Dance! will introduce them to basic moves that will help them develop natural rhythm and motor skills, in addition to an active imagination. Everyone will be dancing like the stars with this dance fitness CD brimming with every style from ballroom to disco -- hip hop to hula. There is even a traditional RAIN DANCE, CHA CHA, FOXTROT, SALSA, STROLL and celebration of DANCES FROM AROUND THE WORLD. What an excellent way for children to have fun while staying healthy and in shape. For Ages: PRESCHOOL-ELEMENTARY (adults love it too!)

Includes 24 page booklet with lyrics & dance instructions.

Awards:2008 Creative Child Magazine Preferred Choice
2008 Parents' Choice Recommended



AD: