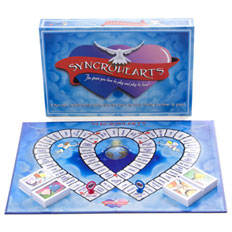 Syncrohearts

MSRP:
$39.95
Age:
18 to Adult
Discount:
Enter "love" for 10% discount
SYNCROHEARTS®
is a two person game that helps to rekindle the romance in relationships. It is the perfect date night for couples. This is a tastefully done relationship game that helps couples spend more quality time together and it adds lots of love, laughter, great communication and more romance. This is a proven successful game with powerful testimonials and great customer satisfaction. Makes a great gift for weddings, anniversaries, etc.
I highly recommend this game to others. My husband and I played syncrohearts and had lots of fun! The game is very interactive and exciting. It's an excellent way to bring couples together to spend quality time. Syncrohearts offers a unique way to be emotionally intimate and enjoy each others company. It's a must have for married couples!
— D. Allen-Woodside, Atlanta, GA
(

Watch Video)
AD
---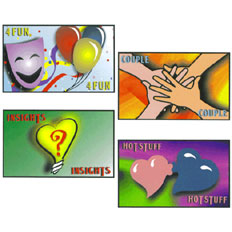 Four Different Card Categories

Cards include 4-Fun, Couple, Insights, and Hot Stuff.
Each card features a question, a fun activity, or an insight that pertains to that card's category.
Example of Couples Card:
Who is the proud owner of the most clothes in your relationship? A quick closet check can confirm your answer, so be honest!
Example of Insights Card:
Relationships are like life's classroom where we learn about important things like love, compassion, patience, trust, honesty, effective communication, etc. In the relationship with our partner we need to recognize those times when we are the teacher or when we are the student.
SYNCROHEARTS®
"The Game You Love to Play and Play to Love"
Comes with a 100% money back guarantee
Partial proceeds are donated to the Zajac Ranch for kids with special needs.