The Few, The Proud…The Award-Winning Toys
Who Made the Cut This Year?
By Alison Marek and Julie L. Jones
---
Thousands of products are introduced to the toy industry every year, but only a limited number are good enough, playable enough and innovative enough to garner an award.

In addition to issuing TDmonthly Awards, TDmonthly Magazine regularly asks manufacturers to present their award winners to our readers so that retailers can quickly identify products with great potential and manufacturers can learn and be inspired by others' successes. Here are the most recent responses:
THE SMART FITNESS WORKOUT DVD by KIMBO EDUCATIONAL


This DVD is designed to help children thrive with daily physical workouts featuring brain-based, guided movements to stimulate learning. The program also shows how these fitness exercises can be used with children who have special needs.
Awards: 2009 Dr. Toy's 10 Best Active Products; 2009 Dr. Toy's 100 Best Children's Products


6/18/2010 (Price: $19.95; Age: 4 to 9) [Add to my Inquiry Basket][?]




RIBBONS & RHYTHMS by KIMBO EDUCATIONAL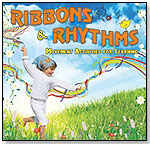 Children can take up ribbons, streamers and scarves, plus get ready for hand-clapping, foot-stomping, repetitive rhythmic routines. Diverse rhythms, such as African, Reggae, Cha Cha, Bossa Nova and Rap, and cool musical action songs with a pattern and a purpose, are meant to encourage movement and imaginative play and improve motor skills. Awards: 2010 Parents' Choice Award Recommended


6/18/2010 (Price: $15.95; Age: 4 to 7) [Add to my Inquiry Basket][?]




Pot Holder Deluxe by HARRISVILLE DESIGNS INC.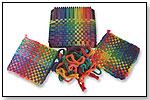 With this American-made kit, children can make potholders with 100-percent cotton loops custom made to fit sturdy metal Harrisville looms. The kit comes complete with materials in fresh, bright and vivid colors, and instructions for making six different potholders. Awards: Dr. Toy 100 Best Children's Product Gold Award; Oppenheim Best Toy Award; ASTRA Best Toy Award Finalist


6/18/2010 (Price: $24.95; Age: 7 and up) [Add to my Inquiry Basket][?]




Smooth Rider by RADIO FLYER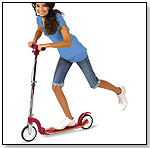 With high performance features and a cool, classic design, the Radio Flyer Smooth Rider scooter is designed for cruising around town with friends. Experienced riders can appreciate the ultra-smooth, ultra-comfortable ride delivered by the extra-large 170mm wheels and precision ball bearings. This product also features a wider, longer deck for easy foot placement and hand and foot brakes for added control. The real wood deck provides a classic look, and the handlebar adjusts so kids can enjoy the scooter for years to come.
Awards: 2010 Parents' Choice Award; 2010 iParenting Award; 2010 Parent Tested, Parent Approved; 2010 Seal of Approval Award


6/18/2010 (Price: $99.99; Age: 6 and up) [Add to my Inquiry Basket][?]




The Complete Hawaiian Reef Fish Coloring Book by LUCID HAWAII INC.



The Complete Hawaiian Reef Fish Coloring Book includes more than 200 colorable illustrations designed to help teach children how to identify over 80 species of fish. Each illustration is accompanied by a complete description of the fish, with information about anatomical features, coloration, body designs, feeding habits and reproductive strategies. An overview of coral reef ecology is provided to help children understand the relationship between the fishes and the coral reef as well as the importance of conservation. This eco-friendly book is printed on recycled paper. "This book is often referred to as a coloring textbook or even coloring encyclopedia, because it is the most complete source of information about reef fish that you will find in a coloring book," Lucid Publishing Author Monika Mira told TDmonthly.
Awards: Summer 2010 Dr. Toy Best Vacation Children's Products; 2010 Creative Child Magazine Book of the Year Award


6/14/2010 (Price: $16.95; Age: 6 and up) [Add to my Inquiry Basket][?]




Bucket With Valve by HABA USA/HABERMAASS CORP.



Suitable for children 1 1/2 and up, this bucket is made of nylon and measures approximately 23 cm tall.
Awards: 2010 Dr. Toy Best Vacation Children's Product


6/7/2010 (Age: 2 and up) [Add to my Inquiry Basket][?]




Silly Bandz Princess Pack by BCP IMPORTS LLC



The 24-Pack Princess Shapes includes: Tiara, Diamond Ring, Glass Slipper, Princess, Majestic Castle, Magic Wand. This pack has shapes in six assorted colors to be collected, worn, or traded with friends. They can be treated as traditional rubber bands and worn as bracelets but spring back into their original shape when not in use. Launch date: 2010.
— Silly Bandz were on the top-10 best-seller list at Dancing Bear Toys in Asheville and Hendersonville, N.C., according to the storeowners, sisters Sarah and Erika Evers, in June 2010. "They are cute, inexpensive enough for kids to afford, and fun to trade," they told TDmonthly.
— As of 7.13.10, this product had 4 out of 5 stars from nine reviews on Amazon.com, and was listed No. 1 in best-selling toys and games.
PROS: Fun, collectible, wearable (the right size for most children's wrists) and ideal for party favors. CONS: Some shaped rubber bands may have a bad smell, but it likely depends on the packaging and seller.
AWARDS: 2010 TDmonthly Top Seller (entire Silly Bandz line)


6/7/2010 (Price: $4.95; Age: 4 and up) [Add to my Inquiry Basket][?]




Snoots Toots! A Kid's Game of Empathy and Manners by YOUTHLIGHT INC.



Snoots Toots! A Kids Game of Empathy and Manners is a therapeutic board game from Dr. Poppy Moon's Imagucation Creation Workshop. Kids will role-play their way through a variety of situations requiring manners and empathy skills. This game is designed to help kids learn skills that are critical to social and emotional development. "The use of role playing during the game makes it unique, as does fact that it can be used in a therapeutic, educational, or home setting," YouthLight Inc. Creative Director Amy Rule told TDmonthly. Awards: Dr. Toy 2010 Best Children's Vacation Products


6/4/2010 (Price: $34.95; Age: 6 to 12) [Add to my Inquiry Basket][?]




Splash Bat by PRIME TIME TOYS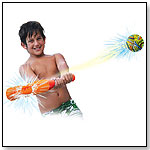 Whether at the park or in the pool, kids can make a huge splash by dunking the splash ball in the pool and then hitting it with the foam bat. Can also be played without water. The bat measures 22" long, and the ball is 3" in diameter.
Awards: 2010 Tillywig Top Fun


5/28/2010 (Price: $10.50; Age: 4 and up) [Add to my Inquiry Basket][?]




Twisterz Alphabet Matcher by TWISTERZ TOYS, LLC

Alphabet Matcher challenges children to choose a letter and find the five corresponding images that begin with that letter. For example, select the letter "F" and find Fish, Foot, Frog, Flower and Flag. An answer guide is included. Alphabet Matcher engages skills ranging from logic to spelling. It contains three extra sets of rings, covering 24 letters and 120 images.
Awards: Dr. Toy 100 Best Children's Products - 2010; 2011 PAL (Play Advances Language) Award.


5/5/2010 (Age: 3 and up) [Add to my Inquiry Basket][?]






Following are some of the programs represented in TDmonthly.com's section of award winners: Dr. Toy, iParenting Media Awards, TIA T.O.T.Y., Oppenheim Toy Portfolio, The National Parenting Center, and Parents' Choice Awards.

You may also access TDmonthly's review section to see which products earned 5 TD stars.

Advertisement: