"Real Retailer" is a monthly feature where we discuss industry strategies, trends, happenings, or just about anything relevant with toy and hobby retailers across the country. If you have something interesting to say and would like to be featured here, by all means tell us! Please contact tsullivan@toydirectory.com


Cypriana Porter is the owner of The Gingerbread House in Wolcott, NY. A creative woman to say the least, Cypriana has done numerous promotions in order to drive up business in her store. She has also been kind enough to talk to us about them.

ToyDirectory Monthly (TDM): First off, let's find out a little bit about your store, The Gingerbread House. How long have you been in business?

Cypriana Porter (CP): On June 2, 2002 we celebrated our 1st Birthday.

TDM: What type of items do you stock?

CP: We carry a wide variety of items, keeping in mind the educational and play value of each item. Wood puzzles and wood toys by Lights, Camera, Interaction are strong sellers for ages 1-4. We also carry Puzzle World by them. We also carry products by Alex, Small World Toys, Curious Toys, TC Timber, Learning Resources, Toys-N-Things, Roy Toy, Pockets Of Learning, Educational Insights, Learning Curve Atollo, Taurus Toys, Scientific Explorer, Inhabit Toys, Creativity For Kids, Creations By You, Delta Education, Safari, Anatex, Selecta, Kid Galaxy, Balitono, Scholastic, Smethport, Russ Berrie plush, Puppets by Folkmanis and no toy store is complete without Raggedy Ann & Raggedy Andy from Applause. I make sure to carry items in varying price ranges, that way the person looking for a $10.00 item can find what they need, and so can the person who wants to spend $75.00.

TDM: Who is your typical customer?

CP: I have a lot of parents and grandparents who shop in my store. Grandparents enjoy finding items that are not video or computer games. Parents seem to enjoy the fact that I don't have a "Please Don't Touch" rule. In fact, I encourage children and adults to play with the toys we have open. They can bring the children in and they get a chance to see if the child likes the toy before they purchase it. The children are occupied while the adults shop. Teachers, people that home school, and day care center operators continue to be another growing customer base. I give a discount to all teachers and licensed Day Care centers. I even had a woman on Valentine's Day come in and buy a "Capsela" MX Racer for her husband. He had seen it here and that's what he really wanted. They didn't even have any children.

TDM: We hear you introduced a new superhero in order to promote your store can you tell us a little bit about him?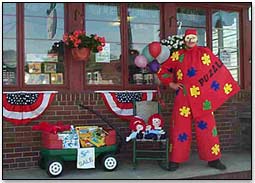 "Puzzleman" - "Defender Of Creativity"
CP: His name is "Puzzleman" - "Defender Of Creativity" Born on the planet Jigsaw, Puzzleman now resides at The Gingerbread House in Wolcott, NY. His evil enemy is "Dr. Boredom". Puzzleman is ready in a moments notice when Dr. Boredom looms. He is an active member of the Wolcott Library & Wolcott Historical Society. He wants children and adults to understand that it is creativity that powers the mind - not batteries.
TDM: Where did you get the idea for Puzzleman?
CP: Being located in a rural area, local businesses had told me that April is generally a slow time of year. I decided that I needed to do something out of the ordinary to promote sales. I thought about what catches my own son's attention. It was superheroes. My superhero had to relate to both adults and children and have an "actual" purpose. I walked around my store and decided that puzzles are something that kids from 1 to adults love to do. The name Puzzleman just seemed to be a natural fit. Because he believes that creativity is so very important, he needed an evil enemy and Dr. Boredom became his evil enemy. Jigsaw was a word associated with puzzles and was a great name for Puzzleman's home planet.
TDM: How has he driven up sales?
CP: A week before his first appearance, we appeared live on Syracuse Channel 9 news (WIXT). This turned into a "FREE" 3-minute segment on Puzzleman, my store and on the products I carry. Two local papers, The Auburn Citizen and The Wayne County Star wrote articles on him. We ran an ad in our local paper promoting him and his upcoming visit. At his first appearance on 5/18/02 he was a hit!!! He handed out "free" Puzzleman Key Chains, made from actual wood puzzle pieces. The key chains were numbered and we held a drawing every hour for a free puzzle. We handed out 144 in 1.5 hours. In turn, my sales soared.

Click Here...