| | |
| --- | --- |
| | Looking For Action? Top Selling Action Figures for 2003 |
In his blue tights and red cape, Superman looks positively tame compared to today's action figures. Gritty, detailed and lifelike, with a full-range of motion in their shoulders, elbows, hips and knees, the new breed of action figures are equally at home in a play room or copping a pose next to your computer.

Action figures' recent surge in popularity can be largely attributed to companies like McFarlane Toys, Toy Biz, Art Asylum, and DC Direct – each proving that what can be imagined, can be created in plastic. But what drives today's consumer to rush to the local toy or comic store when a new figure is released?

"People in today's society like to identify with things," said Ken Reinstein, public relations director of The McFarlane Companies. "It can be something that they remember from their childhood, a favorite sports or movie personality, a movie that they enjoyed, or they just like the look of the action figure."

Nowhere does this seem to be truer than with J.R.R. Tolkien's classic The Lord of the Rings. Selling steadily since its original release, the book has become a cult classic of worldwide proportions. When the stories leapt from the pages onto the big screen, Frodo, Gandalf and the rest of the cast became the number one seller at toy and comic stores.

Lord of the Rings
"We can't keep the shelves stocked fast enough," said Carla Hewitt of Metro Entertainment, a comic and collectible store in Santa Barbara, California. "If you want one of these figures you have to get on our waitlist like everyone else." When asked what their top sellers were besides Lord of the Rings, Hewitt's eyes closed for a moment in thought. "Your standards – Transformers, He-Man, Spawn, Spiderman and Dragon Ball Z – repeatedly sell out."

The response is similar for both neighborhood stores and online retailers. So let's break down the top selling action figures for the first quarter of 2003. All prices listed are estimated retail.

Rounding out the top sellers (in no particular order):

Lord of the Rings
1. Topping the list is Lord of the Rings, The Two Towers, by Toy Biz (ToyDirectory). Available are 6-inch ($9.99) and 12-inch collectible figures with authentic fabric costumes ($22.99). Also available are the deluxe horse and rider sets (retail $19.99).
2. Master of the Universe Heroic Warriors by Mattel. These classic action figures have a new look for 2003 and include deluxe figure assortments, such as Smash Blade He-Man ($9.99) as well as vehicles and play sets.
3. Spawn Reborn and Series 23: Mutations (6" figures) by McFarlane Toys ($9.99).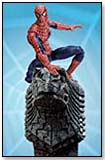 Spiderman Movie Series
4. Spiderman Movie Series by Toy Biz. Series 3 includes new play sets, vehicles and figures such as Wrestler Spiderman ($14.95) and Drop and Crawl Spiderman ($11.99).
5. Transformers by Hasbro. Fans and collectors are anxiously awaiting the arrival of Unicron ($49.99 est.), scheduled to be released September 2003. At 16 inches, this will be the largest Transformer figure ever made. Until then, you can get your hands on Armada Optimus Prime Semi Truck ($39.99).


Dragon Ball Z
6. Dragon Ball Z from JAKKS Pacific (originally licensed by Irwin). Figures come in BASIC 5 1/2" ($6.99) and movie collection figures 9" ($14.99).

The Incredible Hulk
7. The Incredible Hulk by Toy Biz. Monstrous 6-inch ($8.99) and 13-inch ($10.99) action figures are available. Additional assortments are scheduled to hit stores in September 2003.
8. Silver Age Batman and Robin and Superman and Lois Lane Deluxe Sets by DC Direct ($39.00).

Silver Age Batman and Robin
9. Finally, Matrix movie fans have eagerly greeted the release of McFarlane's The Matrix Reloaded Series 1 action figures ($24.99). Figures include: Morpheus, Neo, Neo in Chateau, Trinity, Twin 1 and Twin 2. In addition, demand is high for the new Terminator 3: Rise of the Machines action figure line from McFarlane. To be released this in July 2003, the line will feature three T-850 figures (Schwarzenegger's character), as well as a 12-inch version with sound clips from the film. The T-X robots are still being kept under wraps but are said to include the T-X Terminatrix and T-X Endoskeleton figures.
1

ARMADA SUPER CONS ASST

2

NAK NAK 5PK ASST

3

TEENAGE MUTANT NINJA TURTLE FIGURES
For the rest of the Top 10, click here
---
---