Baby Buddies: Cuddly Compadres for Babies
By Tamara Halbritter
July 2003



All infants need a pal to coo with during their first year. Baby buddies come in all colors, shapes and sizes with personalities to keep newborns company and cozy.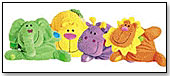 Cosy Pals
Characters to Go

Available in four bright animal personalities, Cosy Pals, by Tiny Love (ToyShow Preview) ($17.95), are lightly scented floppy toys. Each soft animal giggles when hugged and develops babies' sense of sound, sight, smell and touch. Noni the elephant, Lolli the hippopotamus, Mimi the bear and Maxi the lion all shape-shift or mold to a baby's body when held in different positions.

Baby Gund's Spinkles Comfy Cozy Cow
Baby Gund's Spinkles Comfy Cozy Cow ($27.95) brings cuddling comfort with satin paws and an extra soft body. This barnyard friend is a great listener and makes a wonderful security blanket for your little one when out of his or her natural habitat.

In the Jungle (on the changing table)


Lamaze Brand Jungle Friends Changing Table Mobile
A movable monkey, lion and giraffe dangle from the festive Lamaze Brand Jungle Friends Changing Table Mobile by Learning Curve (ToyDirectory) ($29.99). These stimulating buddies make specials sounds, move up and down to music and enthrall a baby at changing time. Every colorful creature can be adjusted as the baby grows. The mobile clips onto a changing table or crib rails.
Hoopla's Take & Shake Snake
Manhattan Baby's Take & Shake Snake ($25.00) also attaches to a crib, changing table or stroller. For infants 6-24 months on up, this 22-inch-long silly snake has five colorful sections that make clicking sounds when turned.
At the gym
Whoozit's 3D Gym to Go
Babies up to 9 months old can get a solid workout in Whoozit's 3D Gym to Go (ToyDirectory) ($50.00). The bold patterns and colors in the play gym stimulate a baby's vision, and scrunchy playmates, attached at various heights, encourage tactile exploration. After the exercise is over, the gym folds flat for travel and has an outside pocket for bottles, diapers and other necessities.

Chuckle Baby Rattle
Whether at the gym, on the beach or in the crib, the Chuckle Baby Rattle ($6.00), also by Whoozit, keeps newborns entertained. Bright stars turn and move, bold colors brighten baby's view and giggling sounds from rattle make infants feel less alone. Soft tubing promotes teething and the small rattle handle is easy to grip.
Writer's Bio: Tamara Halbritter has been teaching creative movement and dance to children for over 15 years. As a professional dancer and freelance writer, she puts plenty of playtime into her schedule. Currently, she is writing a book about a gifted pair who see other people's dreams.
1

WINNIE-THE-POOH MAGIC RATTLE POOH

2

STRIDE TO RIDE WALKER

3

PULL UP BALL BLAST
For the rest of the Top 10, click here
---
---