LEGO: Building Blocks for the Future
By Beth Michaels
July 2003



Preparing children for Kindergarten begins at home, and where better to turn for educational play items than the LEGO Company. LEGO pioneered the brick-based building category in 1969 with the introduction of the still popular LEGO DUPLO Bricks.
"The more fun we can make a learning experience, the more children will want to play," said Michael McNally, public relations manager for LEGO Americas, "and therefore, will actively seek learning at the same time. [Our products] inspire children to create their own stories, role play with characters and let their creative abilities soar."
The LEGO brand is among the top ten strongest brands chosen by families around the world, alongside brands like Coca Cola, Nike and Disney. Since 2002, all preschool LEGO products (ages birth to 6 years) have been grouped under the LEGO EXPLORE umbrella, with four sub-categories: EXPLORE Together, EXPLORE Being Me, EXPLORE Logic and EXPLORE Imagination. Sets in the EXPLORE categories typically have fewer bricks and more manageable pieces for little hands.
Soaring Imaginations

African Adventures
Animates, the 2003 addition to the EXPLORE IMAGINATION line, allows children to form realistic animals, as well as any number of other wacky creatures. Animates contain the brightly colored LEGO bricks with added unique pieces, such as magnetic or movable heads and odd-shaped, bending tails. Create jungle critters from a tub of African Adventures ($19.99), the Rhino and Lion duo ($14.99) or individual boxes of the Funny Crocodile, Funny Giraffe or Funny Lion ($9.99 each), ages 1.5 and up.
For other new additions to the EXPLORE Imagination line, LEGO Company teamed up with Bob the Builder to create play sets for ages 2 years and up. Tikes can construct simple play-lands for Bob and his cohorts with Bob's Busy Day or Wallpaper Wendy ($4.99 each). Both sets have about 10 pieces, and larger sets like Clock Tower Bob ($19.99) contain 46 pieces. The Bob the Builder sets have less bricks to put together and include a mat that provides the setting, characters, and props for the scene. Collect all the sets for a complete city for Bob and his friends.
1

WINNIE-THE-POOH MAGIC RATTLE POOH

2

STRIDE TO RIDE WALKER

3

PULL UP BALL BLAST
For the rest of the Top 10, click here
Interactive Fun

Fire Fighters
New in EXPLORE Together are the Fire Fighters ($39.99, 46 pieces) and Police Action ($29.99, 38 pieces) sets, for ages 2 and up. To put out a fire, kids will have two helicopters, a fire truck, a rescue boat, an emergency car and several firemen to help do the job.
Children can combine the above two sets with others in EXPLORE Together, like the Traffic City ($59.99, 82 pieces), Road Worker Truck ($9.99, 13 pieces) and Campsite ($5.99, 9 pieces), to create a city full of action and interaction. Each set encourages a child to recreate a "real life" situation and become a hero.
Starting Early
On the Move Hospital
Perfect for entertaining children ages 2 and up while traveling are LEGO's new On the Move Hospital ($19.99,18 pieces) and On the Move Police Station ($19.99, 17 pieces), new from the EXPLORE Being Me line. These pieces can be carried in the set's backpack, then zipped open to create perfect settings for having fun. Each set has miniature characters, vehicles and other props.
Much of the EXPLORE Being Me line is geared toward children ages 24 months and younger, starting educational play early on. The bricks in these LEGO sets are larger and round around the edges, making them safer for younger players.

Stack 'n' Learn Sorter
The Stack 'n' Learn Sorter ($6.99, 12 pieces) is the newest addition, appropriate for ages 9 months and up. The oversized bricks are stackable, but these bricks are shaped like squares, stars, ovals and soft triangles, and the bucket lid has special slots to create a perfect building foundation.
Logical Learning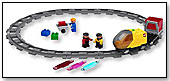 Intelli-Train Starter Set
Using the Tubes - Experiment Set ($19.99, 58 pieces), children ages 1.5 and above can create mazes and other amazing creations with bricks, bendable tubes and balls. Tots 2 and older can travel to the arctic to learn about native people, polar bears, penguins and more through Polar ($24.99, 31 pieces). Tots 3 and up can begin learning how trains work and how to put a train set together with Intelli-Train Starter Set ($49.99, 28 pieces). The set comes with a locomotive, wagon, two "smart" drivers, tracks and more. Collect other Intelli-Train sets for a complete adventure.

Writer's Bio: Beth Michaels is a freelance writer living in Barstow, California, and the proud mother of a son, Kai.
---
---

Advertisement: