| | |
| --- | --- |
| | What's New in Novelty Toys |
Talking Toys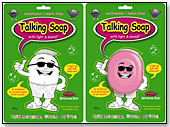 International World of Toys' Crazy Chums Talking Soap
Bubbles and rubber ducky might seem like antiquated entertainment, but International World of Toys' Crazy Chums Talking Soap (ToyDirectory) is here to make sure bath time is good, clean fun for ages 3 and up. The company's popular Crazy Chums series gives a cute face to the talking soap ($7.99 each), including wacky characters like Frilly Frieda and Bermuda Bob. The soaps come in a variety of fruity scents like blueberry, watermelon and tutti frutti, and the non-toxic, hypoallergenic bars can play two different sound effects; they even play under water.
Talking and singing utensils by Wee Talk, Inc. help to motivate and educate kids, both in English and Spanish. Yummy Yummy Talking Spoon and Fork makes mealtime fun for toddlers ages 3 months and up. Brushy Brushy The Musical Talking Toothbrush is for ages 18 months and up, and sings a tune to remind kids to brush every day. Yucky Yucky The Singing Get-Well-Spoon sings a tune for sick kids ages 6 months and up, encouraging them to take their medicine and feel better soon. Groomy Groomy Singing Brush and Comb is a hairbrush and comb that is designed to help children ages 3 months and up to develop good grooming habits. ($7.99 each)
Expanding Shrinky Dinks

On the market since 1973, Shrinky Dinks by K & B Innovations Inc. (ToyDirectory) has turned to new technology to make their popular shrinking plastic toys. Now, kids can use an inkjet printer to transpose their favorite photos or images onto Shrinky Dinks plastic. It's as simple as choosing a graphic, lightening it and then printing. Bake them and turn the pieces into charms, jewelry, game pieces, etc. (six 8 x 10 sheets for $8.50)

Kids can safely make Shrinky Dinks pieces with Spin Master's The Incredible Shrinky Dinks Maker ($28, ages 8 and up). With the kitchen oven no longer needed (giving Mom a break), kids just heat up the Maker, put colored pieces in, set the timer and soon have their very own Shrinky Dinks creations.

Briarpatch (ToyDirectory) has created another chapter of fun for fans of Shrinky Dinks with The Incredible Shrinky Dinks Game ($17.50, ages 8 and up). Players circle the board and collect Shrinky Dinks from the six different areas of Shrinky Dinks Land. Plastic material is included with the game for making your own game pieces.

Ooey Gooey Fun

Monster Eye
New products by Innovative Toys (ToyDirectory) will take goo-loving kids to heaven. GUTZ, Icky Stuff and Smush for ages 8 and up, and Monster Eye, Mystery Compound and Blotto Ball for ages 4 and up, all live up to their squishy names. They can be smashed, squeezed, bounced, thrown and stretched. You can even insert a straw into GUTZ and make bubbles. Mystery Compound will transfer images (think silly putty). Coming in a variety of bright and fascinating colors, the goos range in price from 75 cents to $1.80.

Hayes Specialties Corporation (ToyShow Preview) gives goo and putty a classic spin. The company's new Slime with Dino Fossils (approx. $1.00 each) and Putty with Fossils (approx. $1.50 each) give kids an added incentive to play with such icky material—getting to a treasure inside. The brightly colored, see-through materials come complete with embedded "dino" bones.


Spintrix Discs
Spinners

You might feel hypnotized when you stare at Spintrix Discs by Lightrix (ToyDirectory). Coming in small (nearly 3-inch diameter, $3 each) and large (4 inches, $4 each), the discs will spin for more than 5 minutes, creating a mesmerizing display of light and color. There are several patterns available, and players can compete to see whose will spin the longest.

Or kids can spin themselves silly playing with Spintrix Tops ($1.50 each), spinning the toys on any flat surface. The tops' metallic holographic foils create visual fun for all ages.

Marbles Gone Wild
If you thought marbles were basic toys, Mega Marbles (ToyDirectory) has new creations that will quickly have you grabbing a handful. Their newest marble creations include Blue Jay, Dragonfly, Jungle, Mummy, Raven, Rooster and Rustic ($2.49 set). Each swirls with colors that will remind you of animals, the environment or several other themes. Most marbles come in at least two to three sizes (16, 25 and/or 35 mm). Add them to previously released nature-inspired marbles for a wild collection.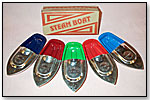 Tin Boat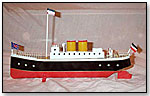 Super Tug X Boat
Pop Goes the Boat

Pop-pop boats are making a comeback since their peak popularity in the 1920s through the 1940s. This refreshingly simple toy sold at Pop-PopBoats.com (ToyDirectory) can outrun most modern electric or fuel-driven toys by running on candles, alcohol, or fuel pellets. Purchase their 5.5-inch, no-frills India-made Tin Boat for just $5.00, available in five basic colors. The Super Tug X Boat is 10 inches long with patriotic lithographs and has the largest engine ($22.00).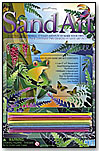 Jungle Sand Art Kits
Inspired By the Sea
Forget about trekking to the beach to make sand creations. ALPI International Ltd. has four new Sand Art Kits ($1.50 each) that will bring the beach home to your kids. The four selections, Marine Life, Jungle, Magic Garden and Aquarium, each come with several bright colors of sand that can fill animal-shaped adhesive paper like a frog, butterfly, dolphin and tropical fish. Kids can proudly frame and hang them as decoration when they're finished.


Iraqi Freedom US Military Heroes Playing Cards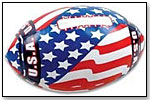 Soft Stuffed Football
Let Freedom Play

You have probably seen or heard about the wildly popular Iraqi 55 Most Wanted Playing Cards available from Orderbulk.com (ToyDirectory). Now Lotto Fun Company (ToyDirectory) has the only officially licensed companion deck of Iraqi Freedom US Military Heroes Playing Cards ($5.99). With faces such as President George W. Bush, the pack also includes two "wild cards" featuring Special Forces operatives.

Rhode Island Novelty also goes patriotic with their new Soft Stuffed Football. The 9-inch throw toy is painted with a red, white and blue flag and the USA emblem.
---
---

Advertisement: