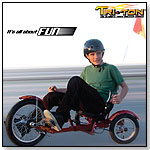 Launch Date: December 2006
This pedal cruiser with an adjustable frame features a unique steering system composed of vertical handles on both sides of the driver's body. The Triton is said to be smooth-riding, safe and easily maneuverable. And riders can get a cardiovascular workout while they're cruising around. It is available in red, blue and silver. Launch date: December 2006.
TDmonthly Review:
What It Is
This three-wheeled cruiser is a smooth, low-riding alternative to biking or ?scooting.? It has an adjustable frame, pedals at the front so that legs are comfortably stretched forward while riding, and unique, side-handle steering.

What We Thought
The Triton certainly offers a good workout because being in such a reclined position challenges the leg muscles to take on the brunt of the work. I particularly appreciated the adjustability of the frame and the supportive seatback, which encouraged me to remember proper posture. The two side handles for steering keep the arms in a very natural position, as opposed to reaching forward as one would on a bicycle, and offer a nice effect given the decent turning radius of the cruiser. I had a little trouble getting the mudguards to fit snugly over the tires (they move back and forth a bit), but on the whole, the Triton wasn?t too difficult to assemble. The cruiser boasts a solid foundation but is also on the heavy side, so it´s not the most convenient for portability. I should mention, though, that ASA Products has a new cruiser model, the Mobo, with a folding design, which I imagine is much more conducive to both transport and storage.

Why They?ll Want It
The Triton gives a riding experience that?s distinctive from what many ride-ons offer. It would be especially nice to enjoy along the beach, and might be a good complement to a regular workout schedule. Also, parents will likely appreciate that its low-to-the-ground configuration makes it feel a little safer.
? Julie L. Jones, 3/24/2009
What Others Thought
One Amazon.com reviewer raved about this product and gave it 5 out of 5 stars, but another posted a discussion saying that three out of the four Tritons he received were defective in some way. The product received four 5-star ratings and one 1-star rating on Overstock.com, where it was lauded for relaxed seating, the different sizes available, adjustability, solidity and exercise potential. The one negative review complained about broken wheels and brakes. The pink cruiser garnered 5 stars on Target.com from three reviewers, all of whom noted how wonderful it is for kids with disabilities.

Product Videos:

ToyDirectory Product ID#: 11711
(added 2/28/2007)

Advertisement: